From the moment you set foot inside the walls of the old Medina you instantly feel like you're inside a 1001 nights fairytale! Marrakech it's a beautiful arabic city filled with colors, spices and ancient magic!
WHERE TO STAY: Hands on stay in a Riad! A riad is the Moroccan version of a hotel, basically a traditional Moroccan house or palace with an interior courtyard(and often a pool). There are normal hotels as well but you'd be missing out! You could also rent a whole apartment through Airbnb.
*A good friend of mine, Adil, (who helped me with QFB) manages a very cute Riad in the Medina, Dar Narjis he's amazing and very very helpful, if you end up staying there tell him I say Hello 😉
WEATHER: Hot! If you go in the coldest months is still going to be reather hot during the day but you might need  a sweather early in the morning and once the sun goes down.
LANGUAGE: Arabic. Not many people speak english outside of the Riads' staff & major restaurants.
CURRENCY & BANKS:  The currency used in Morocco is the Moroccan Dirham
1.00 USD=9.61877 MAD
There are a few ATMs around but make sure to always have cash with you as they don't take cards in almost any place inside the Medina.
HOW TO GET AROUND: if you are staying within the Medina you can easily walk everywhere. If you have to go further i would use cabs, they are pretty cheap but the traffic can be bad at certain times of the day.  You could also rent a car if you are planning to travel to other cities, i didn't but i remember it being quite cheap.
AIRPORT: Marrakech Menara Airport (RAK), it's about 25 minutes away from the center of Marrakech. The quickest and most practical way to get into the city is by cab (depending on how good of a haggler you are anywhere between $15 and $25) or often the Riads will arrange a shuttle for you ($10 to $20)
*My trip to Morocco was the 1st trip i took for QFB, I only had one week to get the shots And I didn't really know what I was doing yet so everything revolved around shooting portraits and I had very little time to enjoy the city unfortunately, but here are my tips based on what I got to see and do: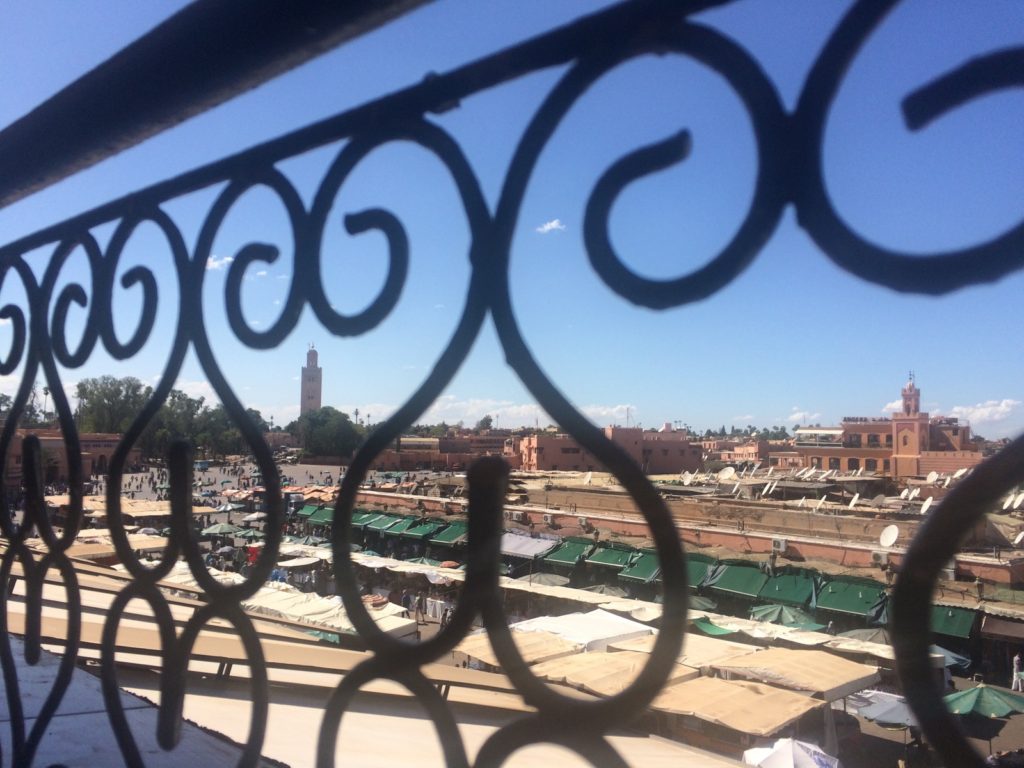 JEMAA EL-FNAA SQUARE
Jemaa El-Fnaa is the main square in Marrakech, weather you go there by day or by night you will find two completely different places. During the day you can take a walk through the  colorful market stalls and get amazed by traditional dancers, musician, fortunetellers, snake charmers and sneaky monkeys. Enjoy a drink, a coffee or a glass of mint tea in one of the terraces overlooking the square! *I went here: Cafe Glacier
At night the place turns into a crowded, loud ,beautiful mess. What during the day was just empty space is now filled with countless food stalls where the cooks and waiters yell louder than thunder to get costumers to stop and eat there. It can be slightly overwhelming (and it could pissed a few of you off quite a bit I guess) at first but once you get used to the yelling you can't help but appreciate the authenticity and uniqueness of it, soak it all in and don't be a bitch! After eating make sure to get some fresh orange Juice and some Moroccan sweets from the nearby street vendors!
GET LOST IN THE SOUKS
The Souks were by far my favorite part of Marrakech! It's an experience that involves all senses. Ahh the colors, the smells, the chattering sound and the textures. While looking for women to photograph for QFB i spent hours just wandering around the narrow pathways and the dingy alleys of this old old market. It constantly feels like being inside a time warp, one moment you're here and one moment you are back 200 years ago! If you're in the mood to shop this is paradise then! Differently from most touristy cities, beside the usual souvenirs crap you can find lots and lots of very unique knick knacks to bring back with you [and you can haggle with everyone!],  i got a beautiful one of a kind handmade notebook which is today my most valuable possession as I write my travel journal in it!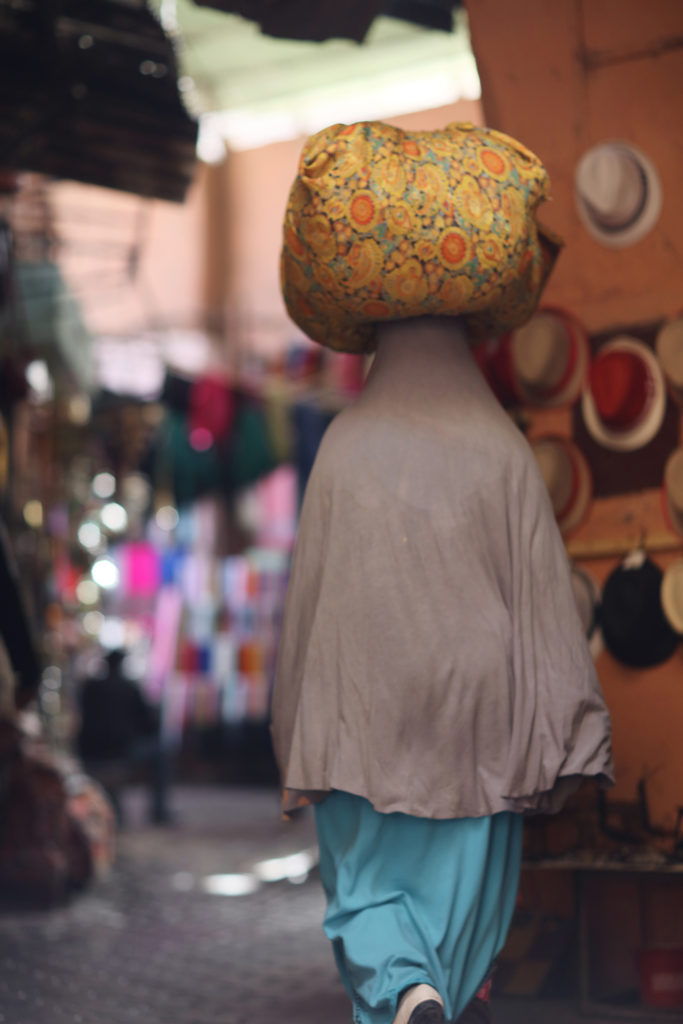 DAY TRIPS
ESSOUIRA
If you have enough time I would suggest to spend at least one night here. I didn't unfortunately so I only took a 1 day trip. I left early in the morning in a mini bus shared with other 6 travelers. It took about 3 hours to get there (we had a quick stop in an Aragan Oil farm which was pretty cool to see).
Spend some time by the port, enjoy the view of blue boats and quacky seagulls and then take a walk into the heart of town and eat some great seafood!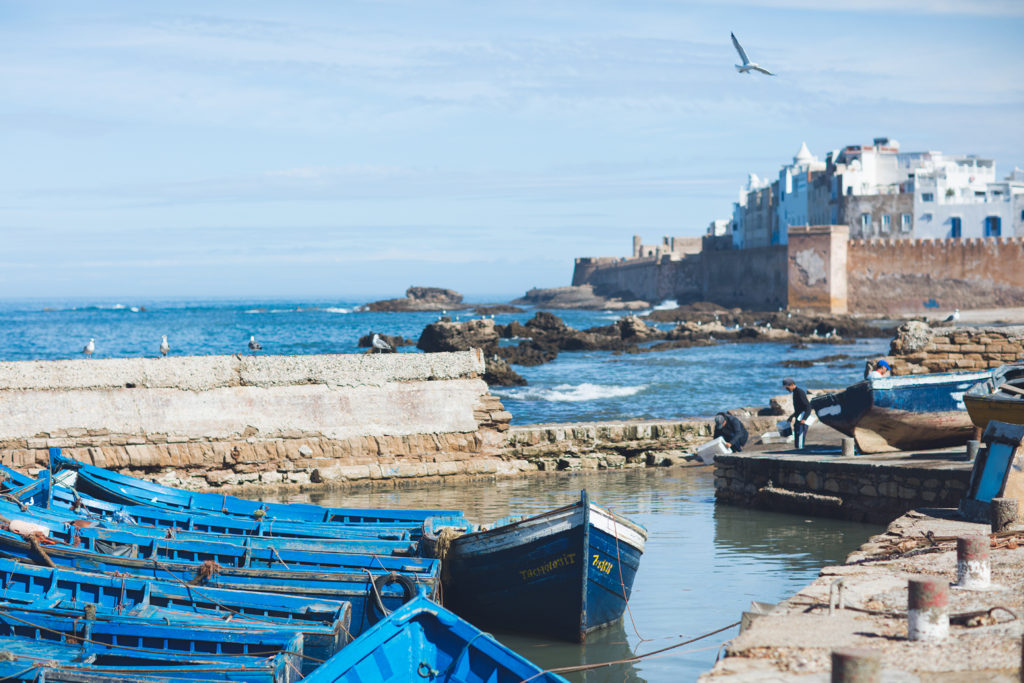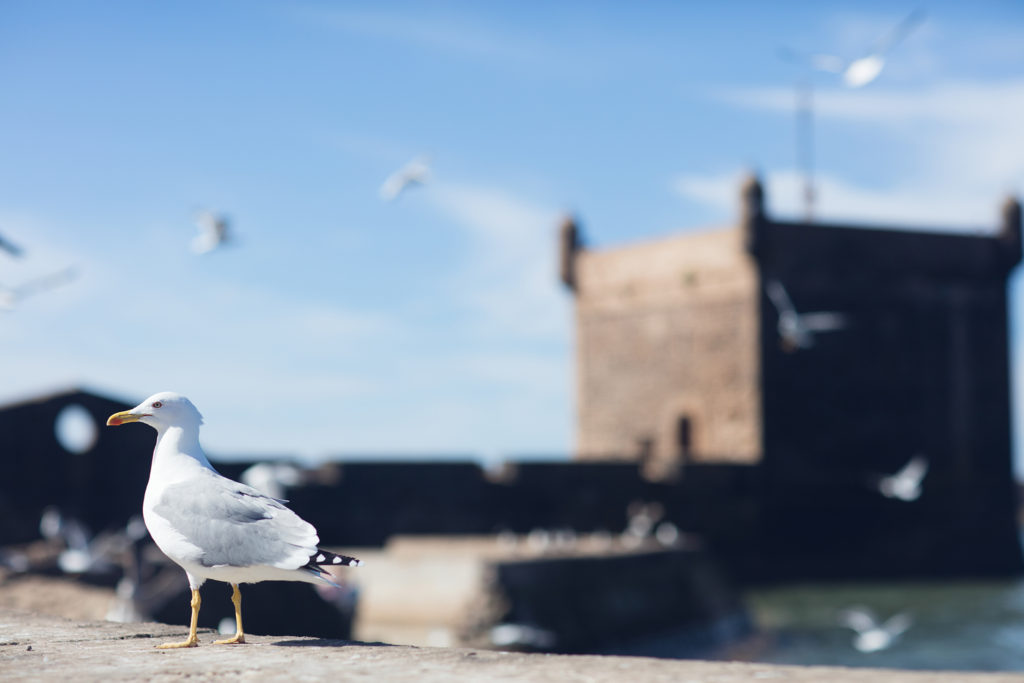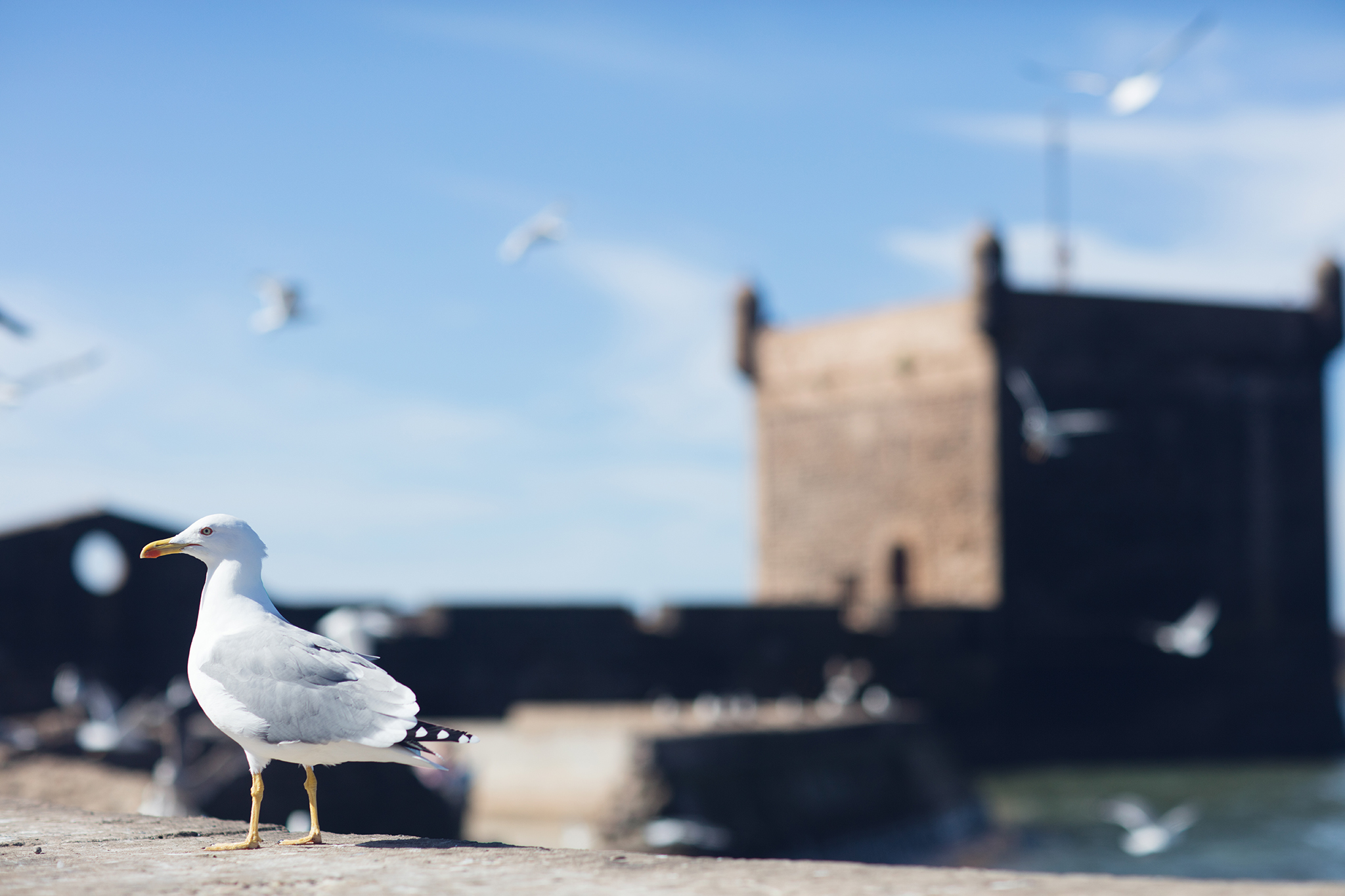 THE MOUNTAINS
Rent a car and take a drive through the mountains outside marrakech, it takes about 1 and a half hours to get there. The view is just beautiful! I suggest to explore the villages in the surrounding areas, and connect with the locals. I was lucky enough to spend some time in my friend's native village. We went to the market, bought some fresh food that the women of the villages cooked for everyone and we hung out all afternoon, it was one of the coolest experiences of my life, the local people were amazing!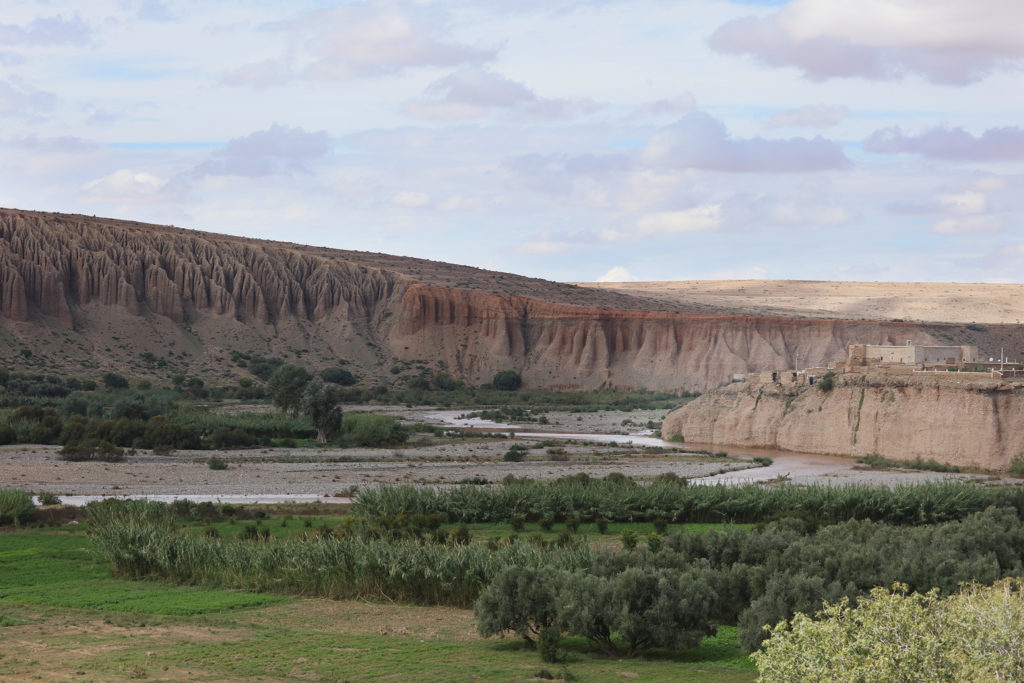 WHAT TO EAT
I really liked the food in Morocco. There's many many options, lots of good meat, the flavors are rich, never too spicy and absolutely delicious! When traveling many people are concerned with getting sick because of the food. I have one rule of thumb that I adopted from my Hero(&God!) Anthony Bourdain: I eat where the locals eat! follow this rule and—as long as the place doesn't have obvious red flag dooming signs—you should make it!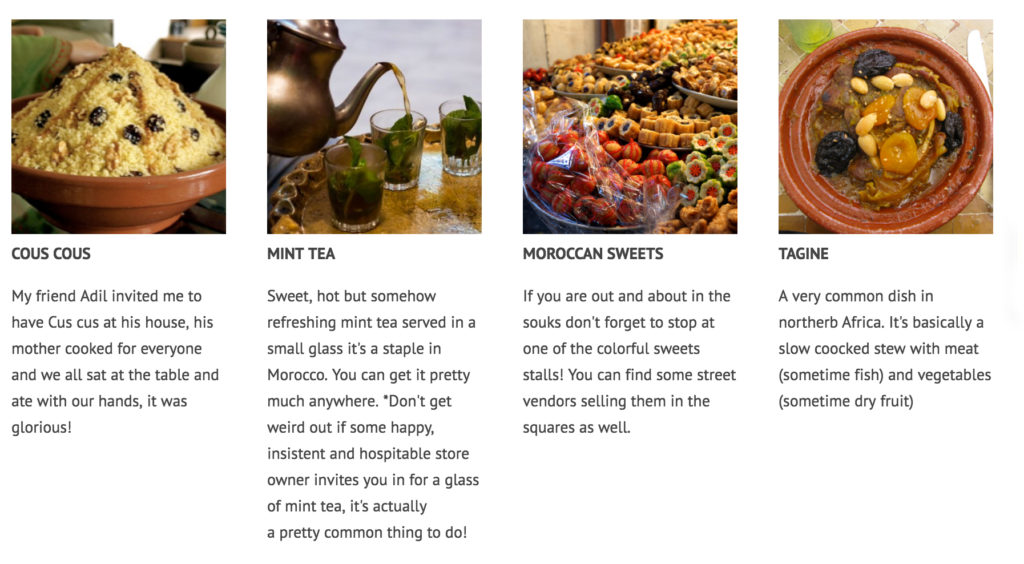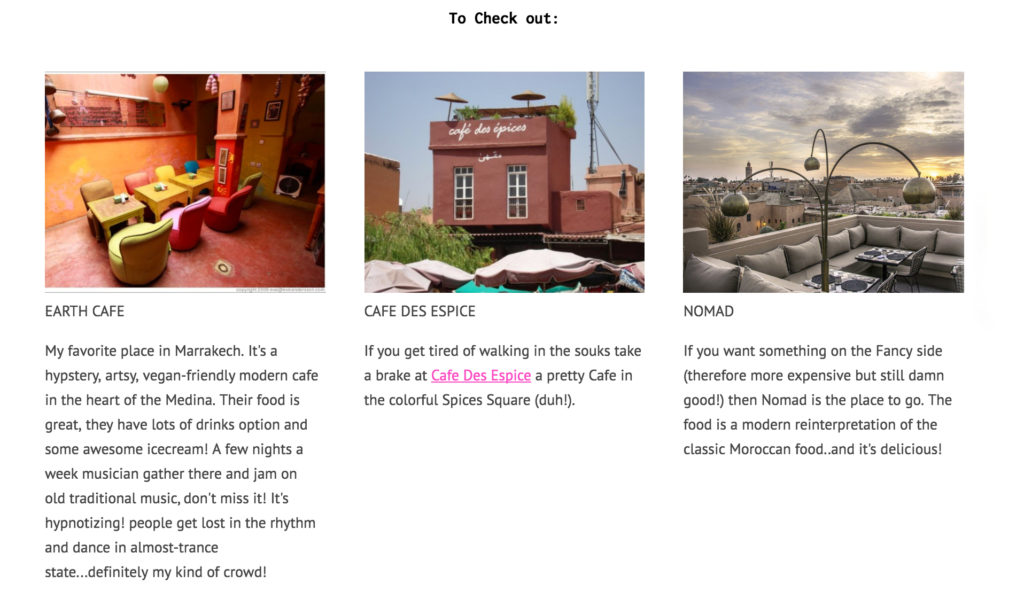 FUN FACTS: If you don't want to find yourself laying on the bathroom floor, paralyzed from pain and vomiting everywhere and telepathically saying your goodbyes to your loved ones because you are sure you are not going to make it through the night(like I obviously did on my last night in Marrakech), AVOID DRINKING UNSEALED WATER!! Not fun at all. Not. Fun. At. All!
WHAT TO PACK
Summer clothes, a sweater or a jacket if you are traveling in the winter(a windbraker would be ideal if you're traveling by the coast), definitely sandals, a pair of sneakers, adapters for your electronics, some books, a notebook, (always have a notebook!), sunscreen and last but not least napkins & tissues as the ones you'll find around are pretty much like sandpaper!! (Oh and having safety TP doesn't hurt! You never know!)
TIPS FOR WOMEN DRESS CODE: some people may have tried to scare you to death (like they did with me) telling you the dangers of showing any skin in Morocco…please go tell them to shut the fuck up!  Yes the culture in Morocco is a muslim country so not very women-forward but Moroccans are not savages and will not jump at you if you are wearing shorts and a tank top. You don't have to wear a veil, yet sometimes you will feel the need to do it just to be respectful. Keep in mind you are in someone else's country, and weather you agree or not with their views, it's good form to be respectful! Use common sense and you'll be just fine!
SUGGESTED READING ; Tales from 1001 nights (Of Course!) and The Voices of Marrakech. I was reading Big Magic from Elizabeth Gilbert while there and made the magic even more magical (and apparently can also be used as a weapon, see the SAFETY paragraph below!)
LIFE COST
Everything is quite cheap, average hotel $25 per night, good meals for about $7-$10 a day.  When out shopping you can always haggle your way around just about anything.
SIDENOTE: Don't be an asshole with the vendors! Yes it's overwhelming how hard some of them try to get you to buy or eat at their restaurant but that's the way they do it and you are just a guest in their own land, so stop it!
SAFETY
Marrakech is generally pretty safe. Watch out from pickpockets while in crowded places! I had one bad episode, where two guys on a  scooter almost snitched my camera from my shoulder but lucky I was already holding it with my hand and when i felt pulling i instinctually turned around and whacked one of the guys in the face with my copy of Big Magic by Elizabeth Gilbert!
*If you're a girl the situation is a bit more sensitive, you do have to keep an extra eye open (especially if you are noticeably foreign with blonde long hair, green eyes and ghost color skin like me!) but use your better judgment and your common sense, don't do stupid things like getting drunk and walk home by yourself late at night and you will be fine!
ADVENTURES
There is a lot to see in the city but if your soul want something a little more adventurous and you have enough time(I didn't unfortunately!) go surfing by the coast or take a trip to the desert (and spend the night, watching the stars sitting on sand dunes is definitely a mind-blowing experience!)`