I was born and raised in this country but I never really cared much for it. if I got the chance to travel I would go as far away as possible from Italy actually. I never saw Rome or Florence or Naples or many many other places. I never felt a sense of pride or belonging. My artist heart always made me feel out of place; I was too different, too weird, too ambitious, too delusional for a country that could be so brutally realistic. I hated and resented those 'realistic' expectations everyone around me had for me & my life so ("you son't buy bread with art, get a real job!" , "dreams don't come true, so stop trying" or the one I hated the most "It's impossible!"). I ran away to the States as soon as I finished high school chasing freedom and big dreams that couldn't fit into my country's small mentality. 
Almost 8 years and thousands of miles later, I came to appreciate and love my own country because, no matter its many flaws it is an incredibly stunningly beautiful place! Last summer I made it a point to go see some of those places I've never cared to see when I was younger. Cinque Terre was the first stop in my re-discovering Italian trip, and guys, it took my breath away!
If you are visiting Italy make sure to stop by this magical, colorful part of the country.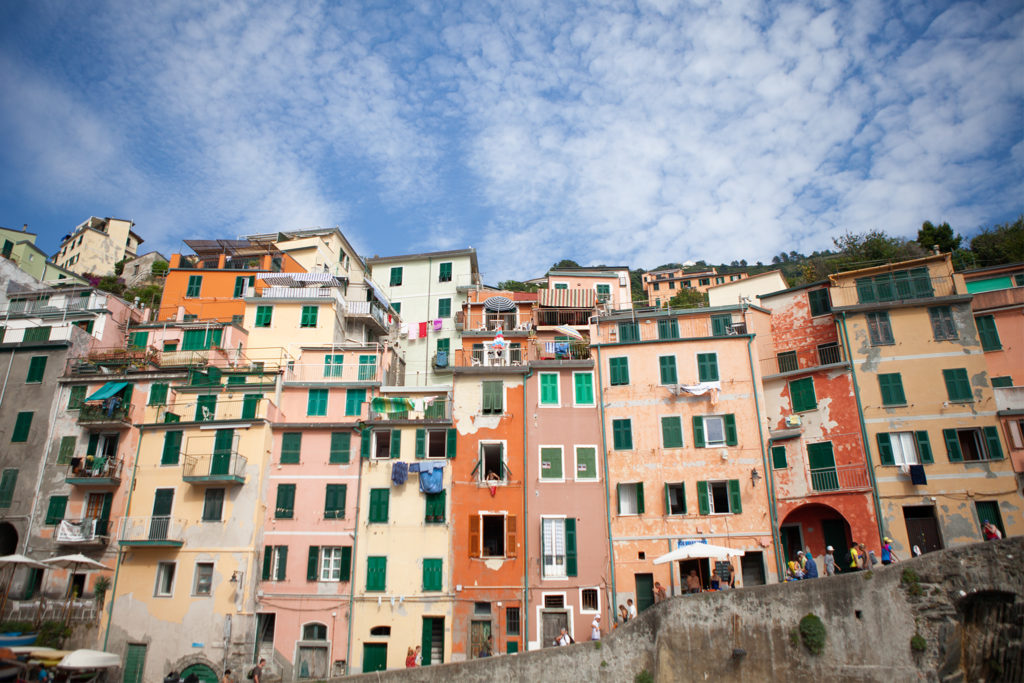 Cinque Terre—which in Italian means five lands—is a string of five, very old, very pretty and very colorful fishing villages on the Italian Riviera. Rio Maggiore, Manarola, Corniglia, Vernazza and Monterosso al Mare offer both relax and adventures, you can lay on the beach, eat delicious italian food in the cute restaurants scatter all over, swim, hike or take a boat ride.
The best way to travel to Cinque Terre is apparently by train, but as usual I didn't do my homework and decided to drive there instead, shortly after entering the proximities of Rio Maggiore I quickly realized that was a huge mistake! There are a lot more cars than there are parking lots, they are not very conveniently located and they are all quite pricy.
To avoid the parking nightmare in every village I decided to leave my car in one of the parking lots and use the train for the rest of the day.Lesson learnt! You can buy single tickets from village to village or you can get a day pass for €7.50
I visited all villages beside Corniglia, I was on a photography mission and that was the least photogenic one so i skipped it to gain some more time in the other fours.
Here are a few tips on how to spend your day!
RIOMAGGIORE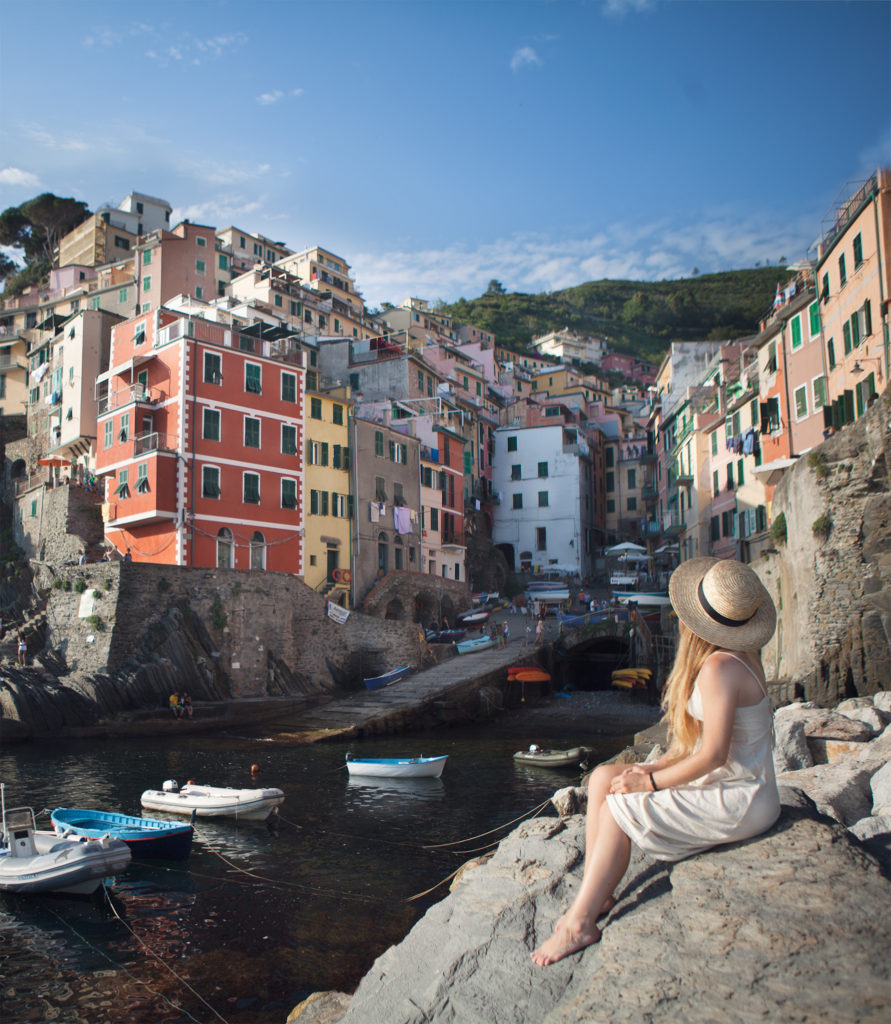 Riomaggiore is the first village I visited. It was incredibly pretty and picturesque. Walking by many cute artigianal shops, I made my way to the port, which was the most photogenic spot in town. I made friends with a really nice old fishermen that took me for a ride in his tiny boat. He told me of a hiking trail called Via dell'Amore ('Lover's Lane') that connects Riomaggiore and Manarola, and it's called that way because of its romantic scenery. Unfortunately I didn't have enough time to go hiking since I only had until sunset to visit all of the villages so i hopped on the train instead on to the next town…
MANAROLA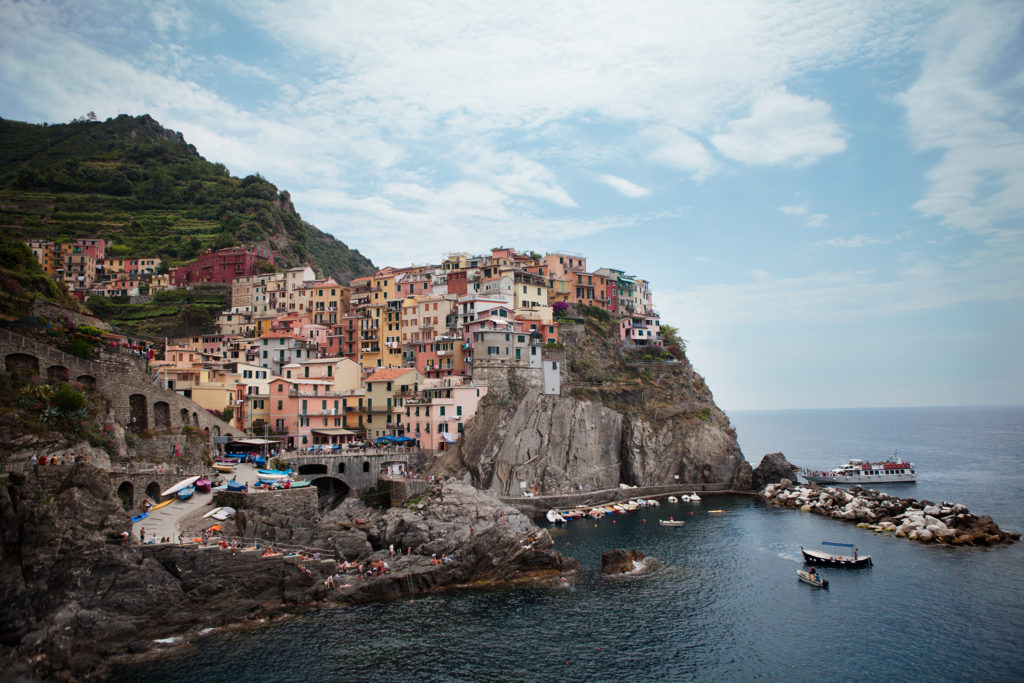 This was by far my favorite village! May be because of being located on a cliff, maybe because of its pastel tones, Manarola looks straight out of a fairytale. This is also the most photogenic of all villages so if you're on an instagram mission make sure to walk around and check all the possible angles to get a killer shot! If you're not into photography then the most amazing thing to do in Manarola is to eat your own weight in delicious pizza and seafood (or pizza WITH seafood!). I would have loved to stay here until sunset 🙁 
VERNAZZA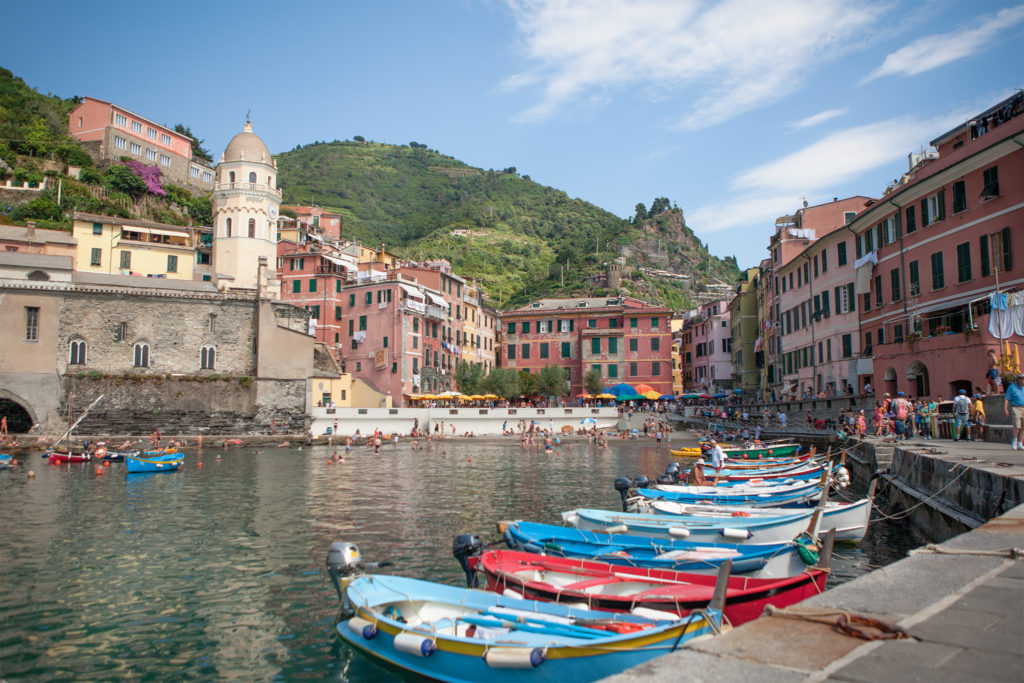 I didn't particularly love Vernazza but is known to be most people's favorite; The village is very famous for its olives groves and for Castle Doria, the watchtower that protected the village from attacks coming from the sea. If you're in the mood for an adventure they rent boats and canoes by the harbor.
MONTEROSSO AL MARE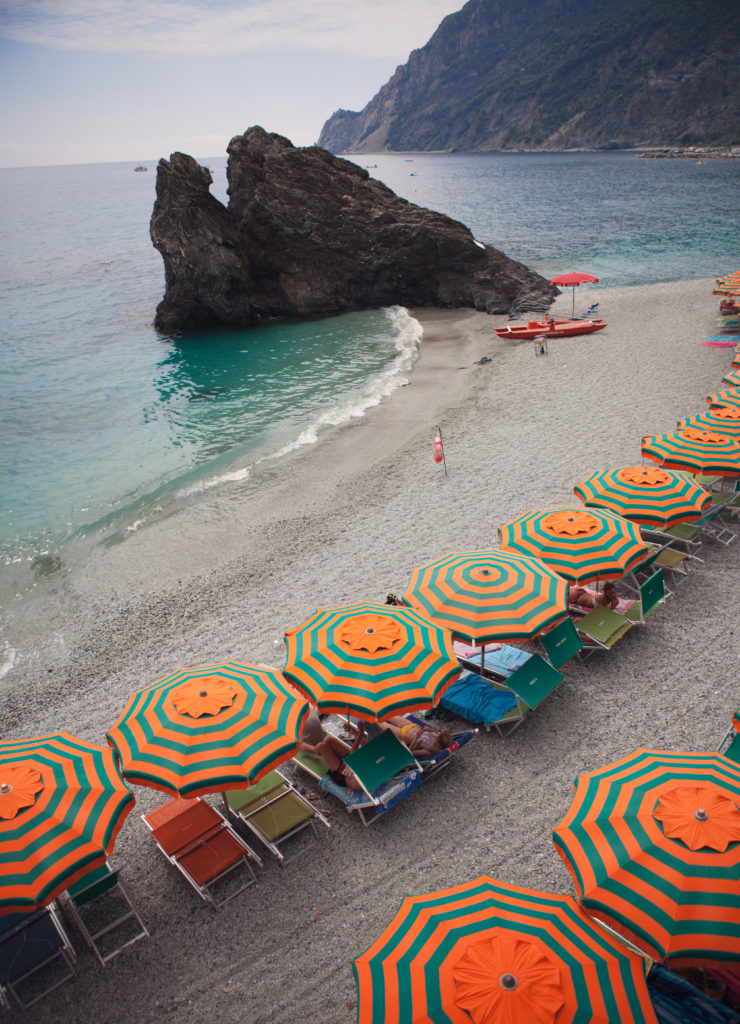 The largest of the five Cinque Terre villages, Monterosso is also the busiest because of its beaches.  The center of the village is pretty and there are tons of shops, restaurants, street vendors, etc It's ideal for someone who doesn't mind a busy place and love laying on the beach…which is not me! Instead of hanging out here I went back to Rio Maggiore to get some more pictures with nicer light (since it was now towards the end of the day) and to devour one of the famous 'Fish Cones' a local specialty, basically a takeout cone filled with fried fish and mixed fried seafood…which tasted even more delicious eaten by the reef while enjoying the view!
To sum it up, Cinque terre is a must see. I definitely recommend visiting for more than just a day trip. I had to leave before sunset to make it back to my hometown for a business dinner and when I got back to my car I really wished I could have spent the night in either Riomaggiore or Manarola, I bet the atmosphere is magical at night there!