I can smell it from here. Where is it? It has to be close!
I can't stop sweating. The midday heat is unbearable, 40°C in the shade, but it does't seem to bother the people in the bustling streets of downtown Yangon. They go about their day while I'm about to dye in the back sit of the cab I took from the airport.
Another whiff comes from the rolled down window, I look around but I don't see it. Where the fuck is it?
I'm tired. My eyes are two sizes smaller than they used to be. I can barely talk to the cab driver. I slept 10 hours and traveled through 4 countries in the past 3 days. I'm dying here. I need sleep, now.
I get off the cab, look around and there it is, 40 meters down the street: DURIAN! the unmistakable, vile, decomposing smelling fruit ever-present in south East Asia. Ahh, I missed it!
I drag myself and my heavy-ass bags up the extremely steep stairs to my hotel lobby. If I don't get to bed in the next 5 minutes I'm gonna pass out right here on the floor. The man at the reception, probably noticing the look of anguish on my face, checks me in fast and brings me to my room.
I made it!
I collapse on the bed in nearly comatose state. Before passing out I still have right enough energy left to ask myself  what the fuck am I doing here. Is this travel thing going to kill me? Is it really worth it to be in mere agony every other week for one reason or another? What am I doing with my life?!
This questions and existential doubts always come to mind on days like this when I'm very tired, or when I lose things like my passport and credit cards (oh yeah it happened in Bali!) or when I'm laying on a bathroom floor vomiting my soul out. It's routine by now!
I should have been here 3 days ago you know, It was supposed to be a rather easy journey from Tokyo with a few layovers, but things went utterly wrong….
WEDNESDAY MORNING – TOKYO
I zip up my bag and leave the hotel. I stop at a small ramen shop in the neighborhood for one last bowl of happiness. I walk down the stairs and enter the Asakusa station. Carrying my bags around the Tokyo metro is a huge pain in the ass (on every trip I  live in fear that my bad-dancer's-back may go out any second). After changing I don't even know how many lines, I'm finally seated on the train to the airport.
I look outside the window—not much of a view—and I honestly feel quite relief about living Japan. Don't give me wrong, I liked it here—especially Tokyo—nice architecture, cool places, the food alone is something I will come back for; interesting, strange and fascinating culture—though impenetrable; Japan has been fun, overwhelming, disorienting, contradictory and mesmerizing, but just a little too clean, too organized and too conformist for the little anarchist in me and I felt a bit claustrophobic here. I like the messy traffic of Saigon, the Chaos of Varanasi, the mix of smells in Kawloon in HK, i'm that kind of girl.
I didn't really understand Japan…but does anyone that isn't born there really do? Maybe next timeI'll do it different, maybe next time I'll get it right. For now, I'm just very happy I'm headed somewhere with far less rules of social conduct and far more dirt and stray dogs!
WEDNESDAY AFTERNOON – TAIPEI
After a 3 and a half hours flight I land in Taipei at 4pm. I have a 9 hours layover and I'm definitely not going to spend it at the airport. Taipei is known for its amazing street food so I leave my bags in a locker, hop on the MRT and head straight to the night market, my only objective: stuffing my face with all the food I can fit in my stomach!
The moment I exit the station my claustrophobia instantly disappears: there's a messy, crowded,vibrant and loud world out there! I walk around the street stalls and the dinner options are endless. I end up eating octopus leg, pepper pork bun, suckling pig and drinking bubble milk tea and avocado juice. By the end of it I'm ready to explode!
It's 10 am, I head back to the airport. When I get to the check-in desk the nightmare begins.
"Miss, can I see your visa?" asks the AirAsia guy.
"I don't have one, I'm an Italian citizen, I just needed an e-visa"
"Miss, I need to see the approval confirmation" he's a bit nervous.
"I don't have it" I say completely puzzled while I mentally go through the list of unread emails in my inbox and try to remember if I saw something that said 'visa confirmation' (I didn't).
"Miss, I'm sorry, I can't let you on the plane."
FUCK.
I check my email and suddenly I realized what happened. I thought I applied for an express visa that was supposed to take 24h but instead I actually applied for the regular one who took 3 days and hadn't been processed yet.
Fuck, fuck, fuck!
I can't do anything but accepting my sad fate (caused by my stupidity) and find a solution as fast as possible. I sit on the nearest bench, take out my laptop and start looking at flights. Everything I can afford is an incredibly inconvenient ordeal. The only affordable and reasonable solution that makes any sense at all is to take a flight to Hanoi spend the night there and leave the following day for Yangon. Ok great! I love Vietnam, it's my favorite country in the whole world, it's my happy place, the prospect of a little detour there isn't bad at all. I book the new flights. This was an expensive mistake!
By the time I figure everything out it's 3.30 AM. It's 'night at the airport' for me! I try my best to get some sleep laying on the rows of empty chairs at the departures gate but there's just no fucking way. In the midst of my misery and discomfort I remember about the guy—let's call him Julian—I met on a boat in Halong Bay the previous summer (while I was traveling with the biggest son of a bitch I ever dated, but that's a story for another time!), we added each other on fb and slightly kept in touch, he's an expat and lives in Hanoi. I message him  "Are you in town tomorrow?"
I keep trying to sleep, unsuccessfully, and when I finally give up I see Julian's reply "I'm supposed to be in Halong for a meeting and stay the night. Don't tell me you're coming to Hanoi exactly today?"
My usual luck! But he says he's going to try to move the meeting and he'll let me know asap.
I give up on sleeping and I go have breakfast and a shower (thank gosh there are showers in this airport!). What seems to be an eternity later, it's finally time to board. Right before jumping on the plane I see Julian's message:
"See you in Hanoi at 9pm!"
THURSDAY AFTERNOON – HANOI, VIETNAM
As it always happens when I come back to Vietnam, I'm almost in tears (of joy) looking outside the cab window on the way into town. The green rise paddies, the buffalos, the cloudy sky, that feeling of peace, of being in the right place, almost of being home. It's good to be back!
I get off in Hoan Kiem, the old quarter, and call my friend Loan, the sweetest person I know, born and raised in Hanoi she knows all the best spots in the city! Me and Loan met in Thailand on a bus, we hit it off right away and now we hang out everytime I'm in Hanoi. Within 20 minutes she arrives on her scooter, pretty as always, I jump on the back and off we go to have bun cha (a hanoi specialty) followed by egg coffee, followed by bubble tea, followed by ice cream.
Julian messages me "Gonna be there in 1 hour, let's meet at this address, is my friend's bar. If you haven't booked a room yet come stay at my place!".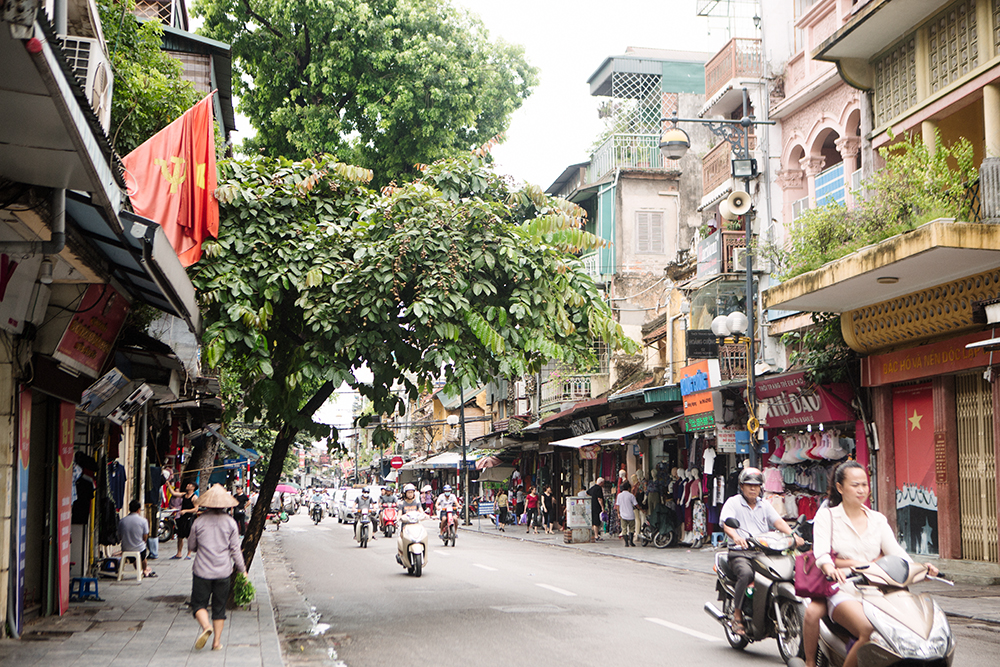 One hour later Loan drops me off, we hug goodbye and I promise her I'll be back in September. While she strolls away a cab pulls over and a tall, well dressed guy comes out, it's Julian. It's nice to see him again.
We grab a beer and sit at the bar. He looks tired too. Last time I saw him was the night after I met him on the boat, we had drinks and a few balloons—laughing gas balloons are on the menu in many bars of Vietam!—with the son of a bitch and a beautiful Algerian girl friend of his (now friend of mine as well) and we had a very deep conversation about life and society, but tonight I can barely put sentences together. I tell him I'm not at my best and he tells me not to worry, he's been having an exhausting day as well. After a few drinks we jump on a grab cab and go to his place. Laying both quite lifelessly in the back seat we look at each other smiling, both thinking the odds of this night happening were one in a million.
"It's nice to see you again" he says.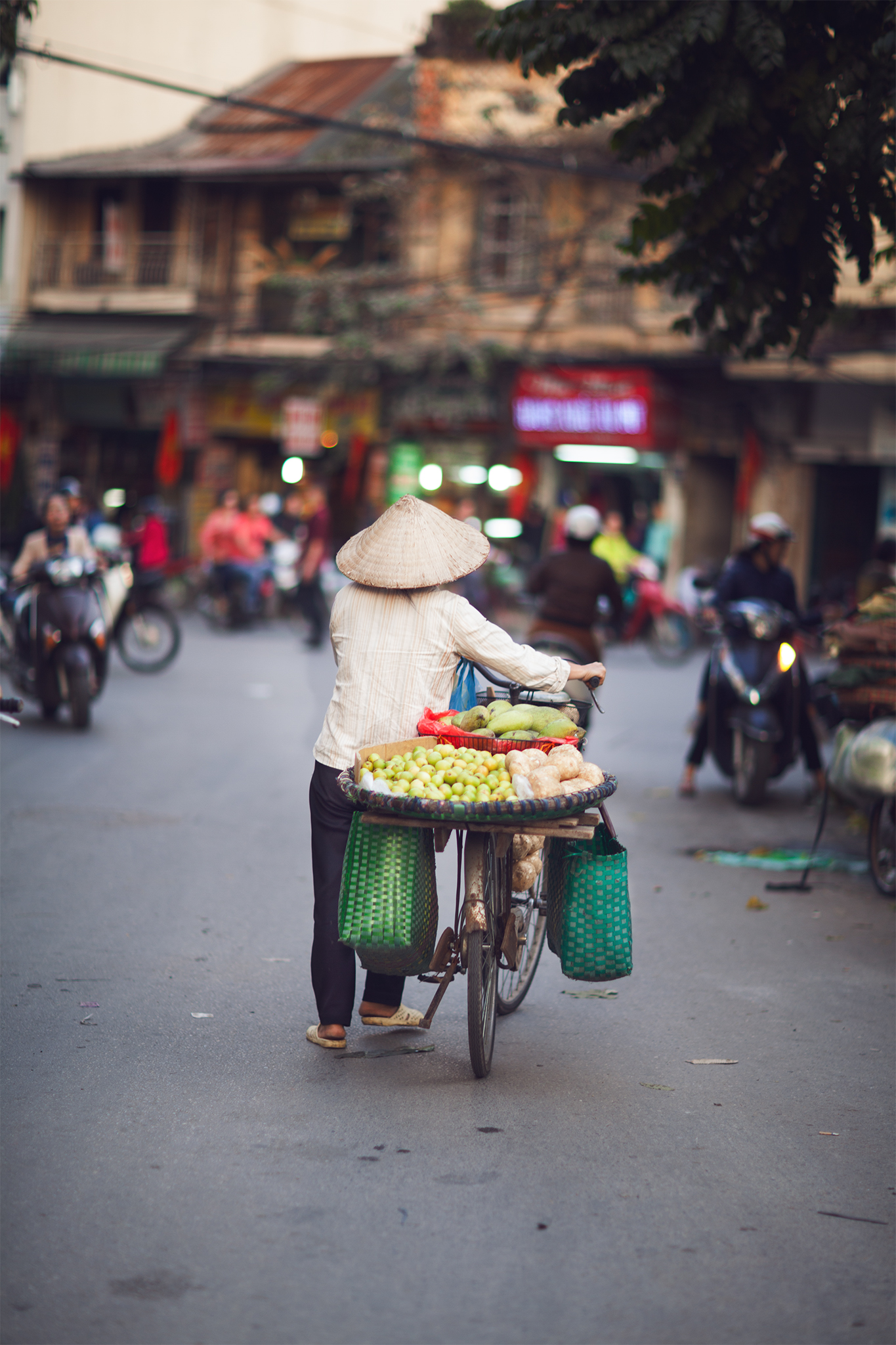 FRIDAY MORNING – HANOI,VIETNAM
How many different beds I woke up into in the last 4 years. How many times I left without looking back. I'm here today, gone tomorrow. I'm always leaving. I don't think about it much but today when I got off bed I wondered if I'll ever change. If I'll ever want to wake up in the same bed, or next to the same guy…my thoughts under the shower washing away.
I turn the water off, put clothes on and head downstairs. My flight leaves in 3 hours, I'm headed to the airport and Julian to work. We walk outside, he helps me with my bags, sets them down at one of the makeshift restaurant's tables outside his house. We look at each other for a few timeless seconds, we hug goodbye, we smile. He jumps on the back of the scooter of the 'restaurant"s owner and disappears into the narrow alleys. My life is made of last glances.
Here today, gone tomorrow.
I sit at one of the low plastic stools around the tables and have breakfast, the roll of toilet paper on top, the million different condiments, the noise of  passing by scooters and street vendors yelling, oh Vietnam, I truly love you.
The drive back is always heartbreaking. I fall in love with places more than I ever do with boys and goodbyes are harder when you're in love with a whole country. It's the feelings I feel in Vietnam that keep bringing me back. it's the rice paddies, the buffalos, the cloudy sky…I might end up moving here one day. it feels like home already. Home. Will I ever find it…?
FRIDAY AFTERNOON – YANGON, MYANMAR
And here we are. I wake up from the grave. I get up and look in the mirror, i surprisingly don't look like death.
I'm starving. I grab my wallet, a pen and a notebook and walk downstairs. The heat is less aggressive now, I can actually take a walk and enjoy it. I feel much better than I did earlier. Sleep fixed all of my existential doubts and no matter how miserable I can get there's always something to get out of my misery, sometime is a life lesson, sometime a story to tell later on.
The streets are still bustling. A thousands smell come from every direction: food, flowers, sewer, gasoline, incense. Buddhist mantras in the air. Relentless traffic on the roads. A bit India, a bit China, a bit SEA. The sidewalks are cluttered with merchandise, trash, dogs, people walking, carrying stuff, eating sitting on the familiar low plastic stools…it's crowded, it's messy, it's dirty. Oh Myanmar, we're gonna get along!
Love 💕
—S