It's late at night and it's still really hot out. Some nostalgic Vietnamese song is playing in the distance, the air smells of frangipani  and the full moon lights up the rice fields across the street…I'm in Hoi An, a place I fell in love with a while ago, it's my 3rd time in Vietnam and while I sit here typing, everything is good in the world. Oh Vietnam..it's so good to be back!
Where should one even begin to describe this beautiful country? What's not to like about it?! The green rice paddies, the kind, happy people, the delicious food, the scenic city streets…
Everywhere you turn there's a perfect picture; The colors, the smells, the flavors, the smile of the people…it grabs your heart and never let it go again. If you haven't visited yet, put it on your list NOW!
THINGS TO KNOW 
GENERAL FACTS: Vietnam is really really touristy but it has also a very strong identity.
Like in many other countries vendors are quite insistent…don't be a jerk! That's just the way it is and this is not your country, so take a deep breath, give them a smile and politely decline!
CURRENCY:The currency used in Vietnam is theVietnamese dong [1.00 USD=22,288.00 VND] Everything is REALLY cheap! 
SAFETY: I feel safe everywhere in Vietnam, though, like you should do everywhere else still use common sense!
HOW TO GET AROUND: to move inside towns and cities walking, biking or uber is the best the way to go. To move long distances you can catch really cheap flights but trains and buses are pretty convenient too(i used a lot of night buses to save time). You'll most likely end up taking boats as well.
WHEN TO GO: I prefer the weather during the winter. It's chilly in the north but very nice in the center and south of the country. During the summer it's insanely hot and it's rainy often.
SUGGESTED READINGS: The quite American by Graham Green

WHERE TO GO
HANOI
Hanoi is the Capital of Vietnam. I stayed mainly in the old quarter, which is the busiest and most vibrant part of town, and i loved it! Walk around the neighborhood, people watch and get completely lost (my favorite way to visit cities). 
MUST SEE:
-The Old quarter -Train Street (around the corner of Tong Duy Tan and Dien bien Phu street. the train passes every day but the schedule is uncertain, some people say 3.30 some say 7.20, in doubt, ask the locals!) -Hoàn Kiếm Lake
TIP: The streets are intimidating rivers of scooters and sometimes could take a while to find the balls to cross!  just go for it! slowly sneak your way into traffic, don't even look and most likely you won't get hit! and Never, EVER, make eye contact with the drivers, they'll get confused and probably you will get hit!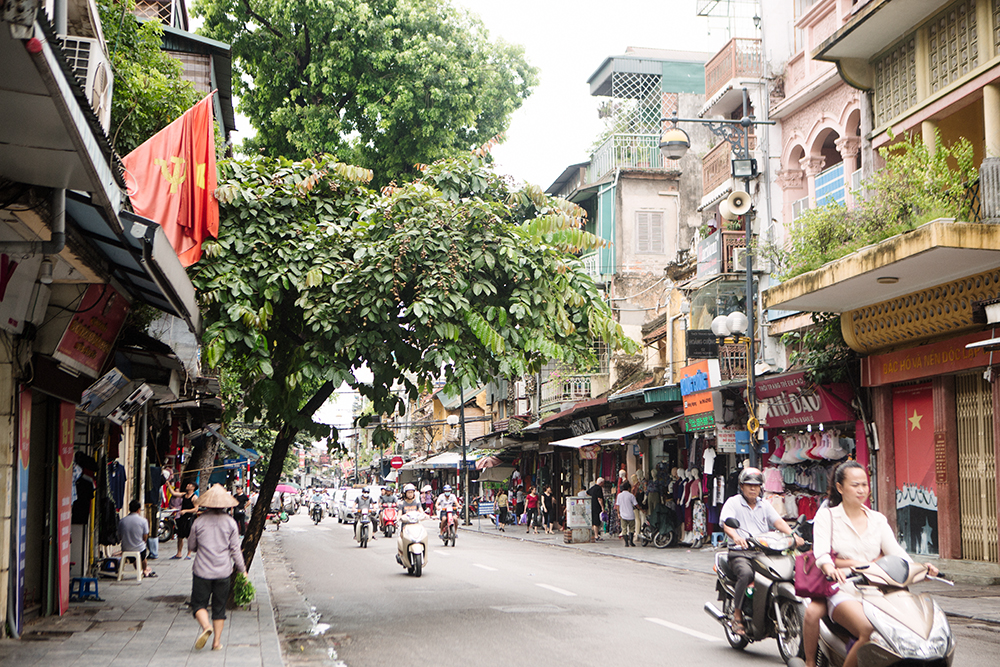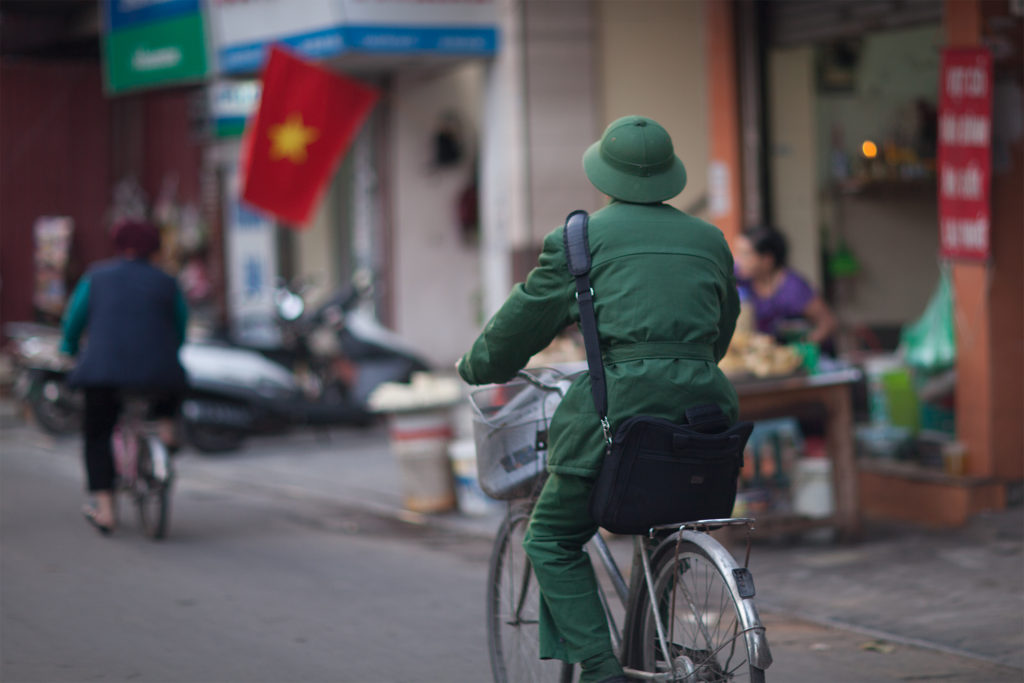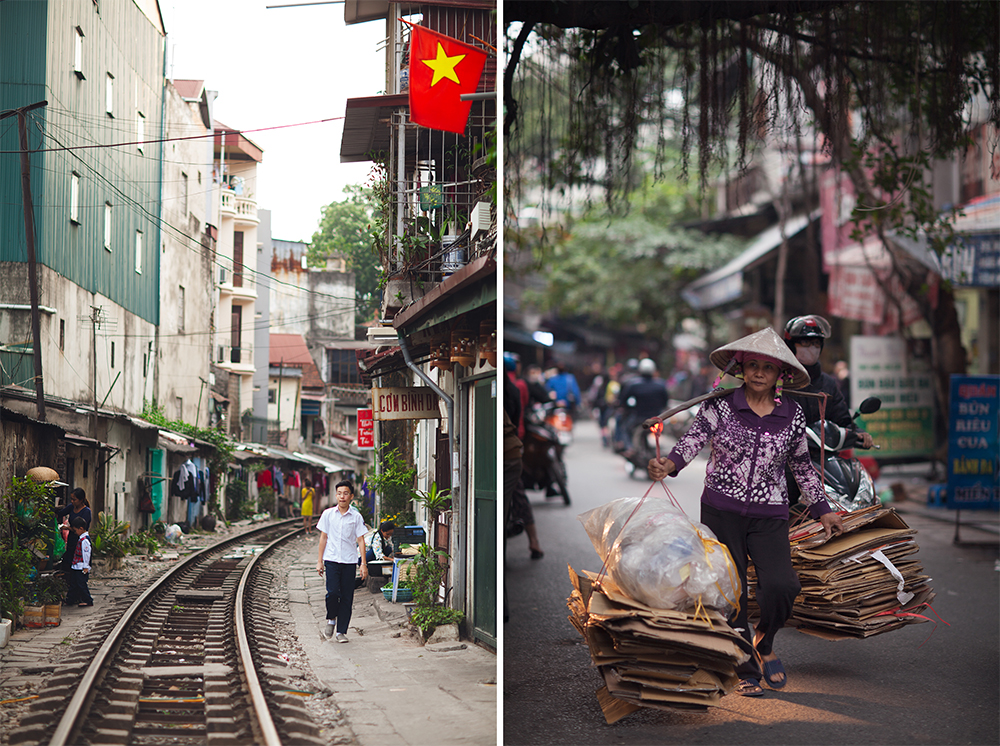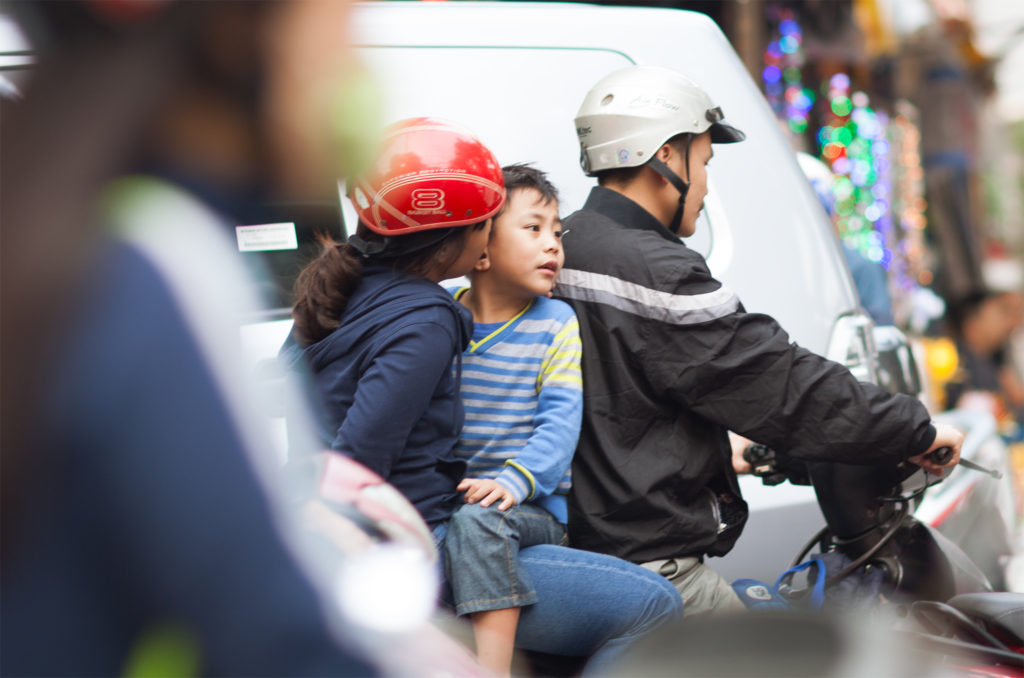 HALONG BAY
This place is pure Magic! The first time I came here I got really lucky and I cruised around the 1000 islands in the dark night on a tiny old fishermen's boat, surrounded by darkness and silence, it was daunting beyond imaginable. This time around I didn't have the same luck, it rained apocalyptically 2 out of the 3 days I was there, I got a hotel in Catba and did a one day cruise around the islands. It started at 8am and ended at 5pm and costed $16 which is pretty cheap (included in the cruise there's one hour of Kayaking, snorkeling and lunch) but I didn't really get to see much. You'll see a lot more with a 2 or 3 days cruise(the downside of cruises is that they are pretty touristy and you are not free to do what you want though!).
TIP:  If you are going to Catba Island and are dropped of at the port from your shuttle bus and you don't care for an overprice and useless 4 hours boat tour there is a Ferry you can take a few hundreds meters passed the tour-boats harbor that only takes 30 minutes to get to Catba and it's 10 time cheaper.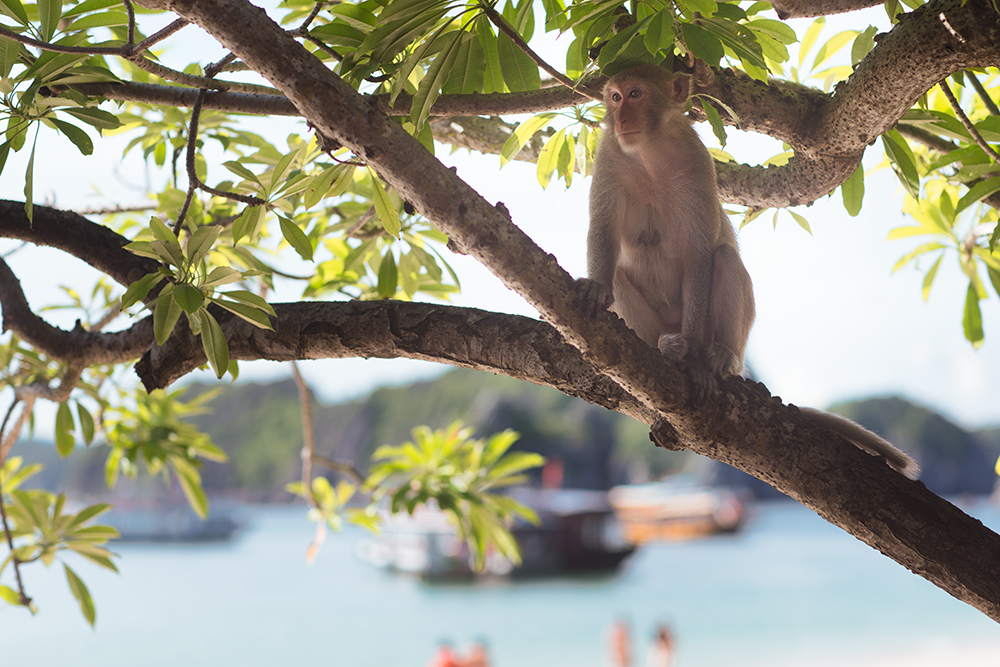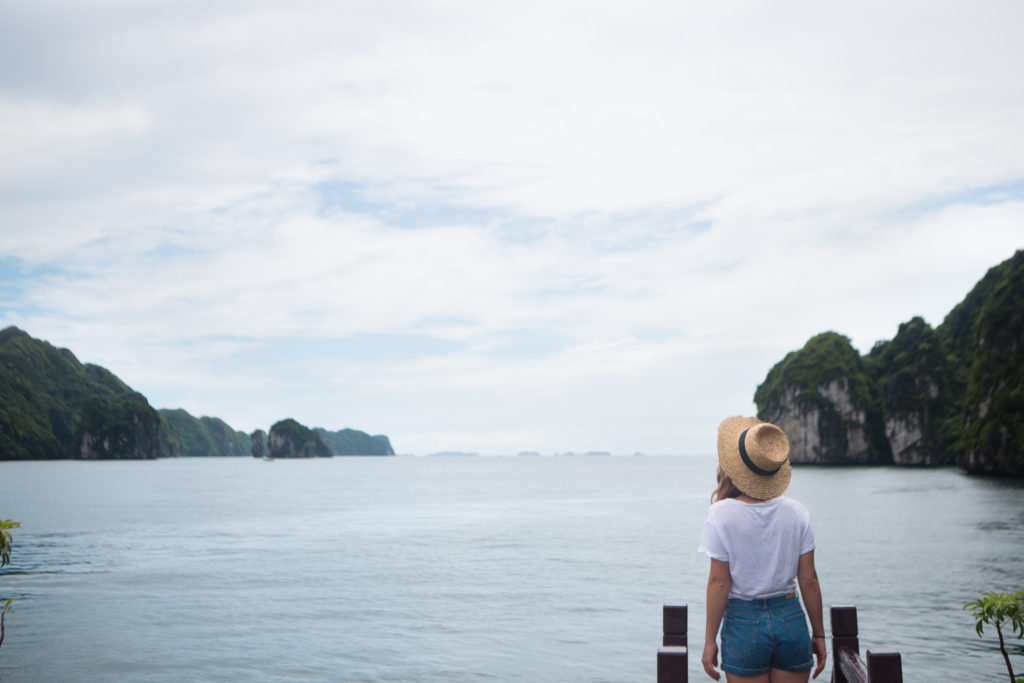 SA PA
Old villages lost in time surrounded by stunning green rice terrace mountains; tribal women dressed in colorful picturesque handmade clothes; wild pigs, pigs and chickens walk with you in the streets; thick waves of white mists appear and enwraps you out of nowhere…don't you dare miss this place!
There's plenty to do and see: trekking, exploring different villages by motorbike, visit the markets and spend time with the locals learning about their culture.  
TIP: You should definitely do a homestay to get the bigger picture, some are more authentic than others so try to get a good contact from other travelers you meet there. In the summer is hotter than hell, which makes trekking not fun at all!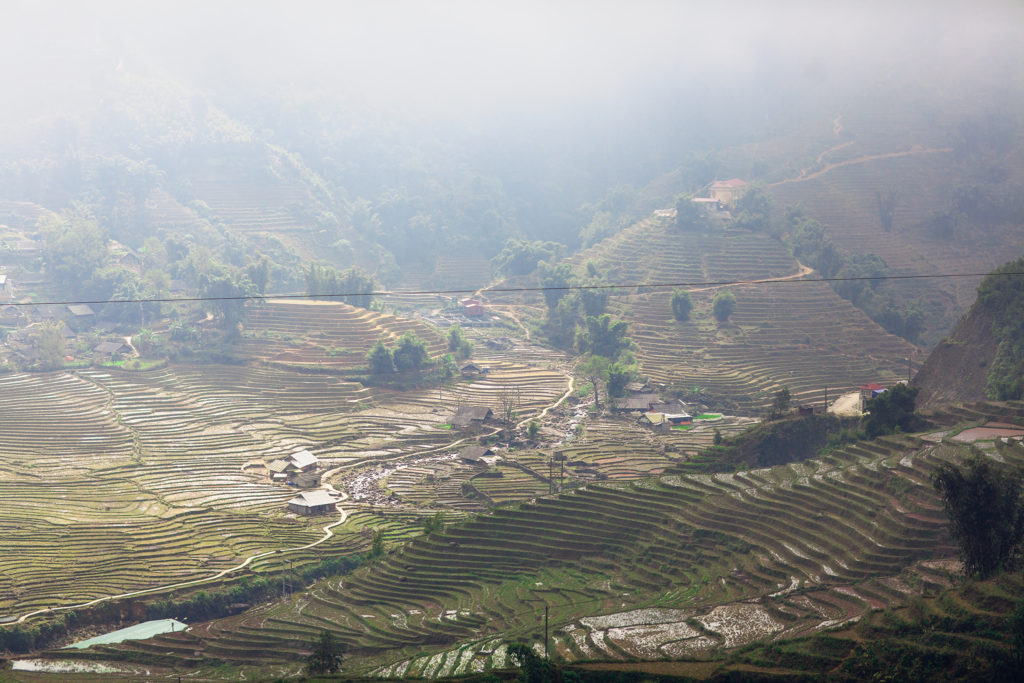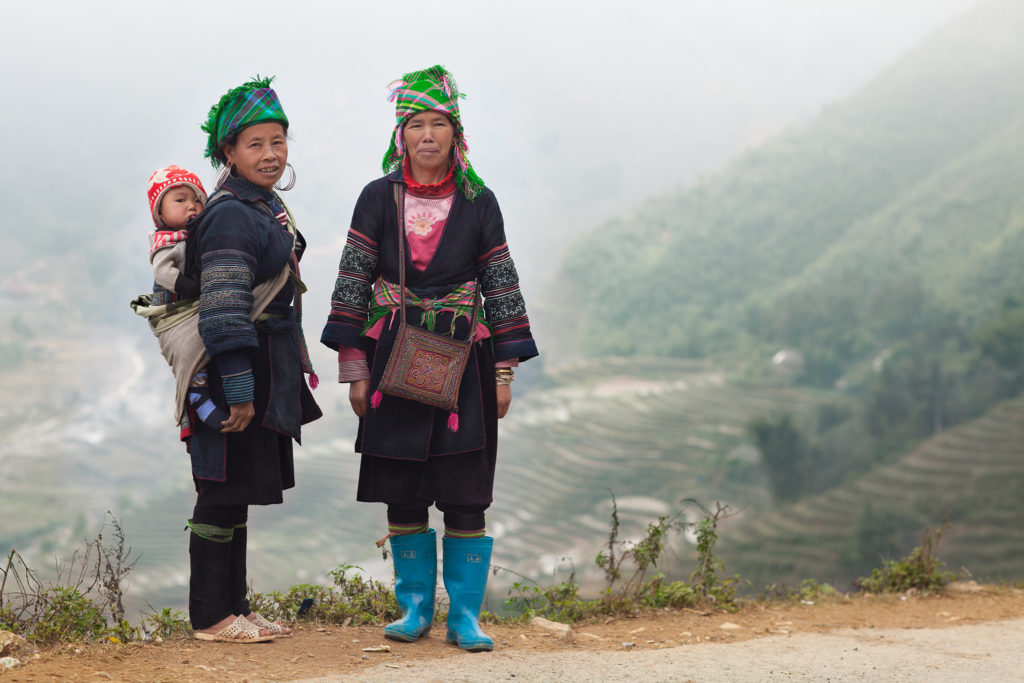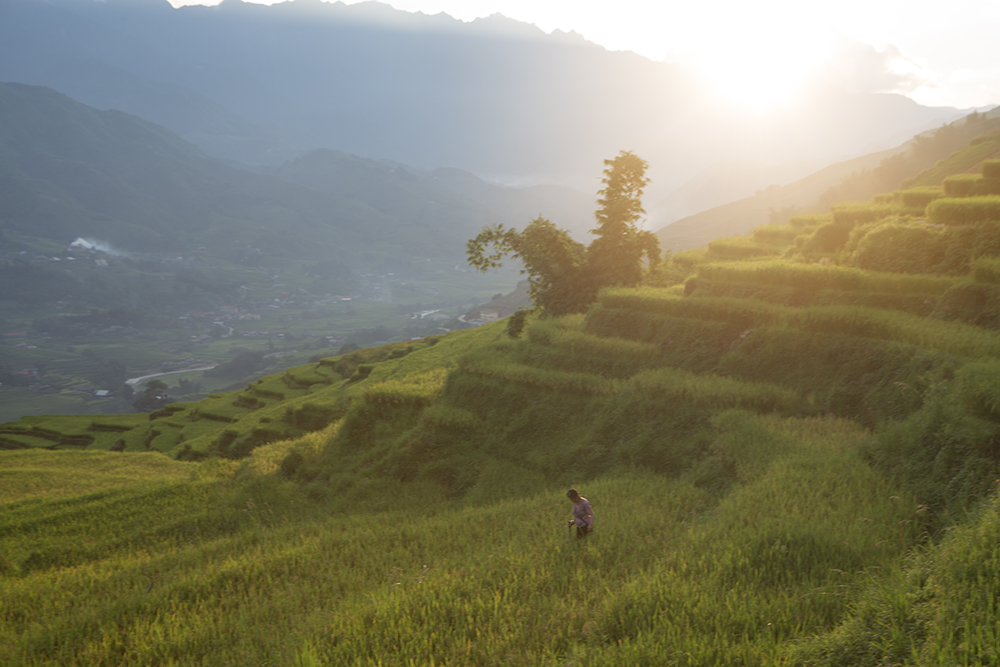 HÔI AN
Hoi An is a quiet, peaceful ancient town in the middle part of Vietnam. Located by the water and surrounded by rice paddies, you can find beauty all around it.  This area wasn't particularly affected by the war devastation so most the beautiful old buildings still stand untouched, the ancient architecture and the vibrant colors will leave you in awe. Unfortunately for me there's a shit ton of tourists EVERYWHERE in the old town, but all I have to do to find my peace back is take my bike and pedal away from the madness out to the countryside.
TIP: Food is fucking amazing here! There's plenty of fancy western cafes and restaurants but I personally don't care for those places and I eat in local restaurants, street stalls and and at the market (which is one of my favorite places in Hoi An actually, you can eat a great meal for under $1 and you can find seasonal fruits and vegetables, fish, meat, noodles everywhere…and women run the show!)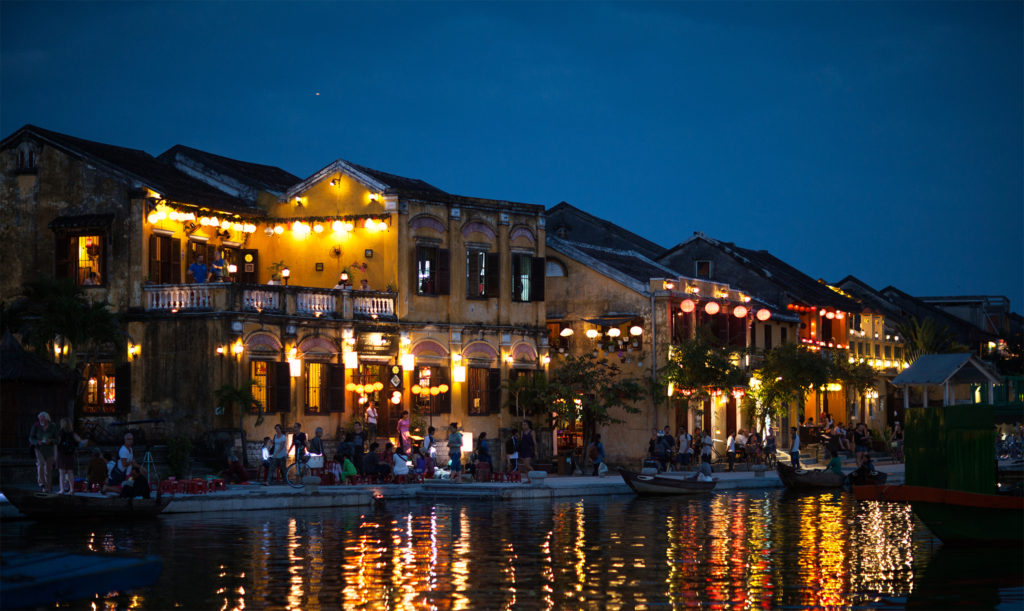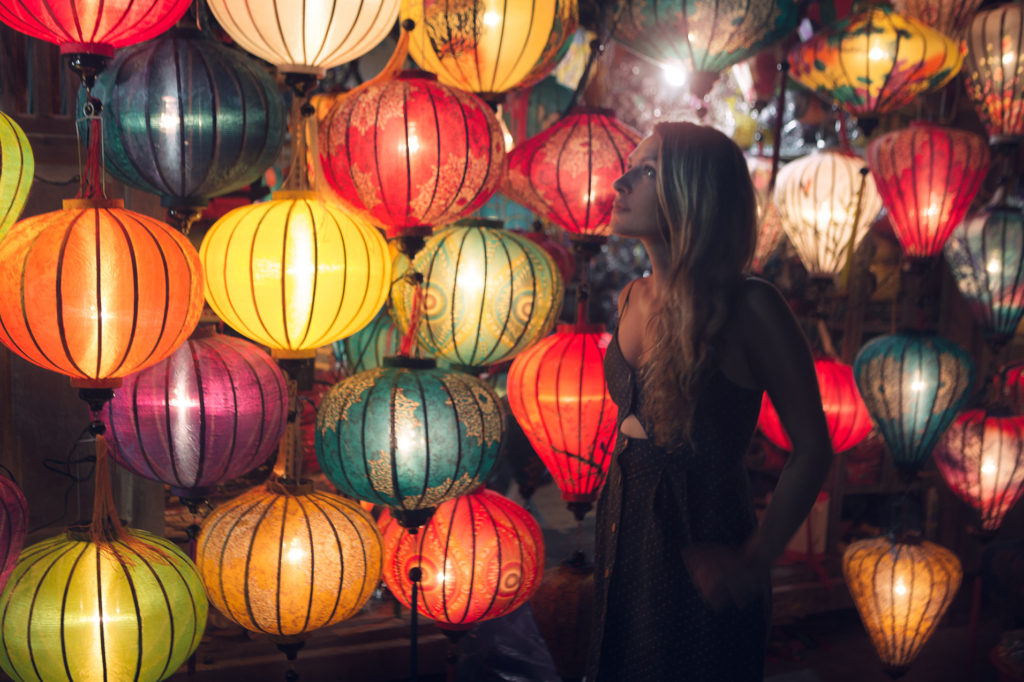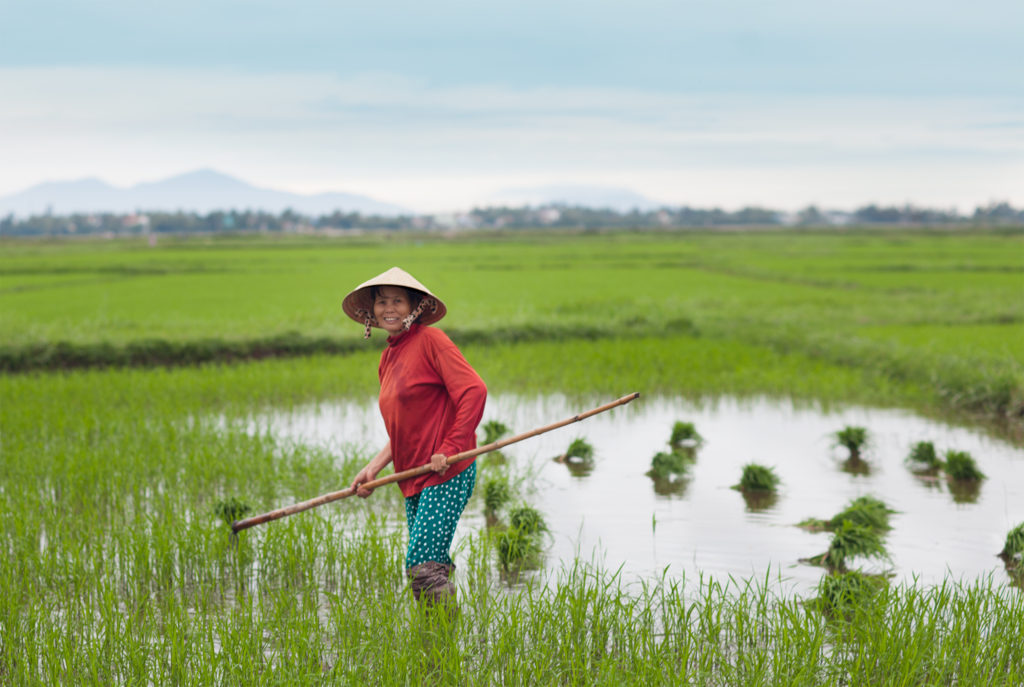 NINH BINH
This was a new addition to my Vietnam Itinerary I visited last month for the first time and I was blown away. Skip the city and head straight to the countryside where you can see some of the most impressive and awe inducing landscapes in the country.
Some of the best things to do here are: -exploring by motorbike and visit the caves and temples around (Bích Động Pagoda andHang Mua Temple were amazing); – Take a boat ride in Tam Coc or Trang An: a lady rower will take you on an adventure through caves, temples, lush green valleys and lakes (the Tam Coc boat ride was definitely one of the best things I've ever did in Vietnam)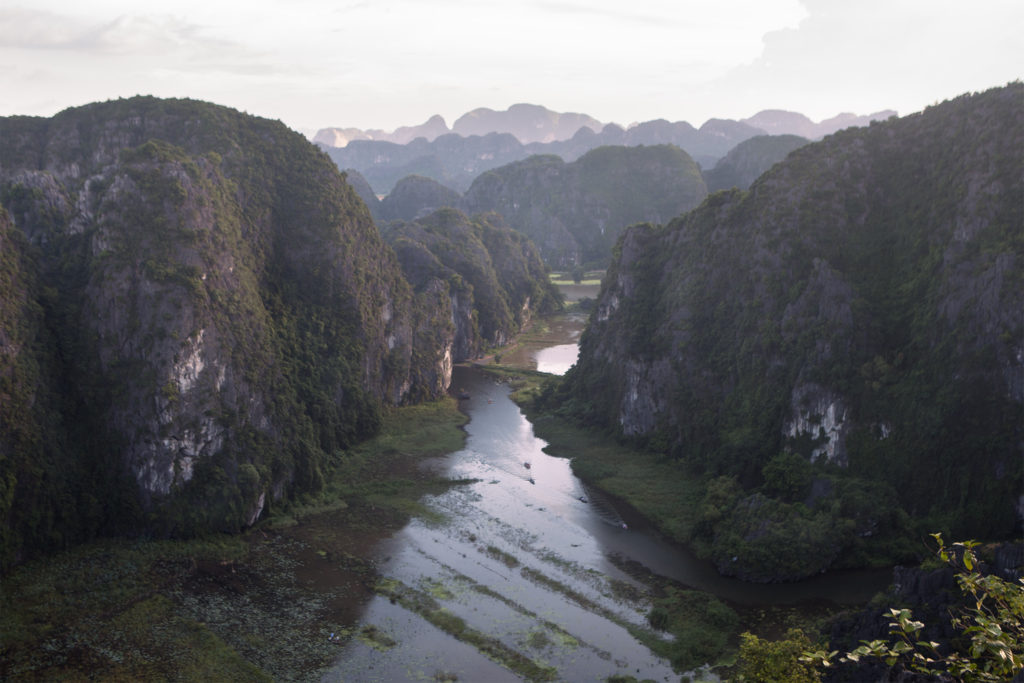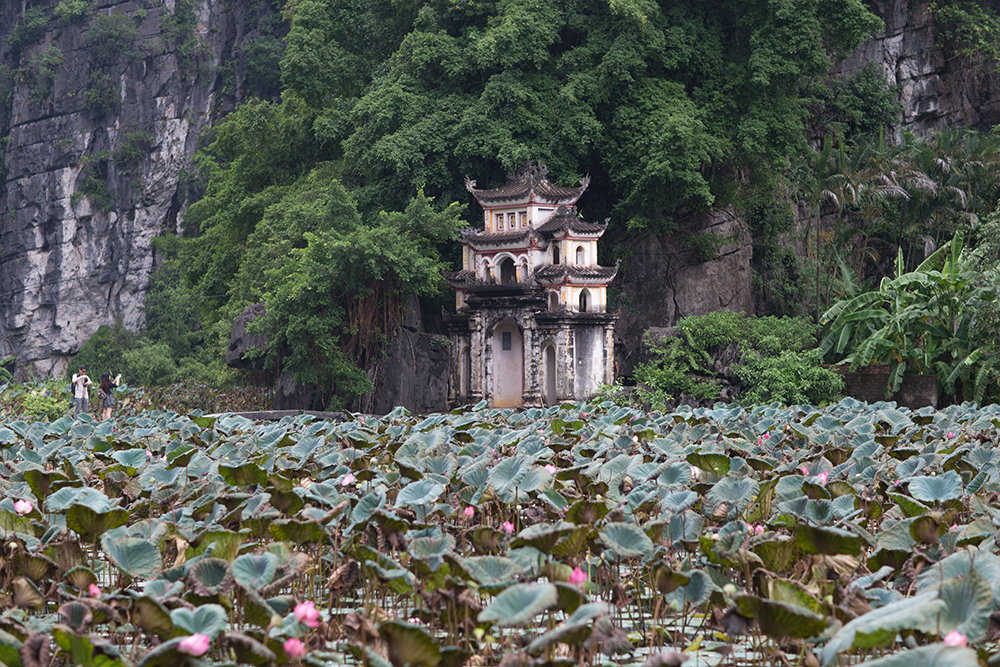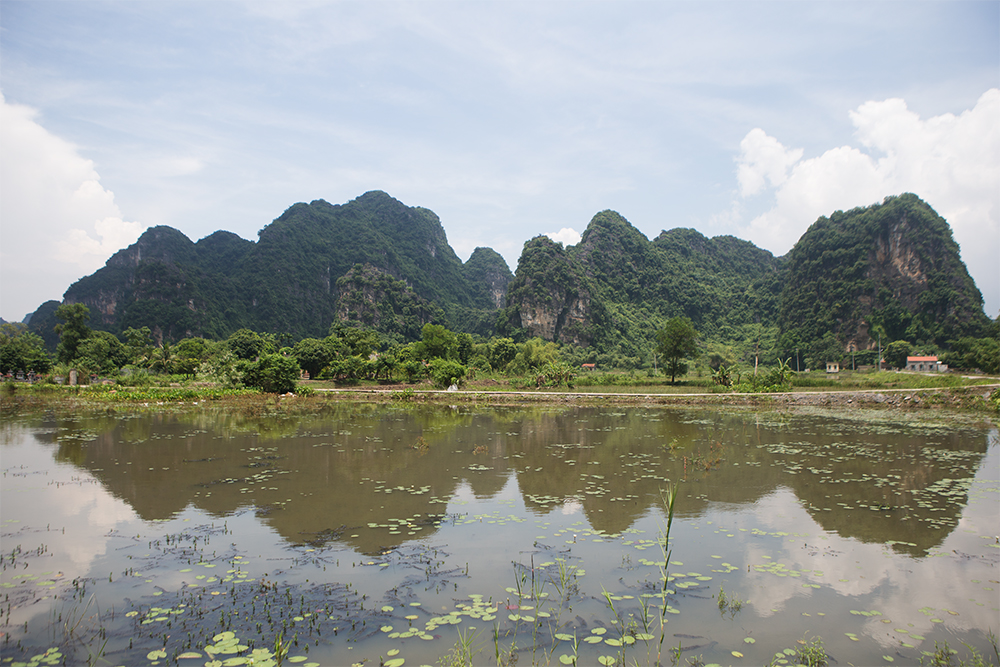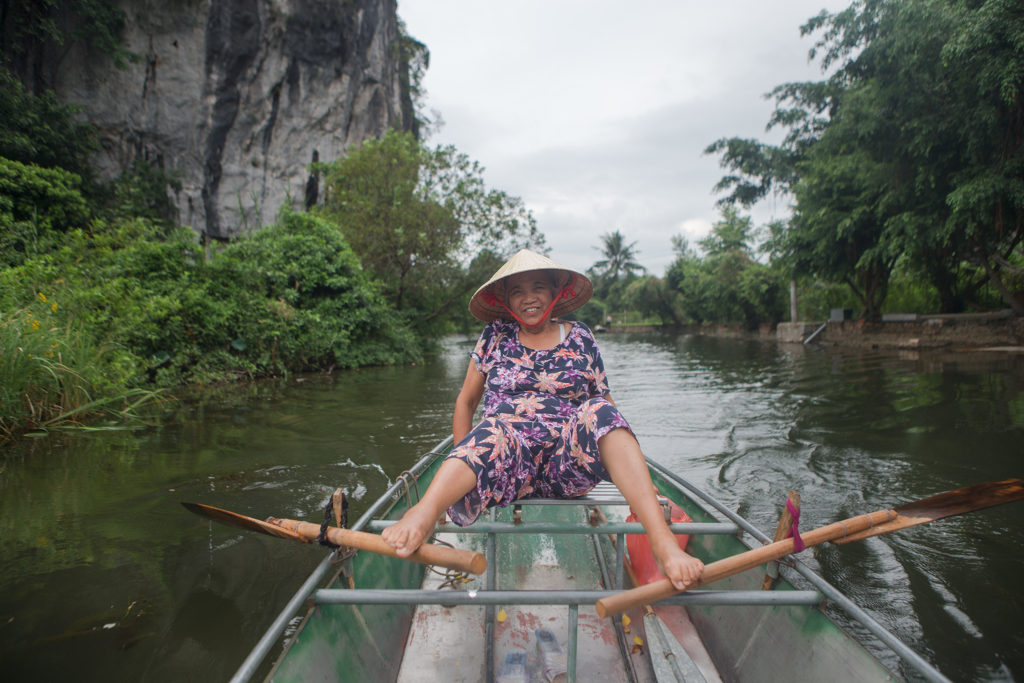 WHAT TO PACK
Summer clothes; rain jacket; a warm jacket if you are going in the winter; good walking shoes; Girls: most likely your hair will be a pain in the ass to manage, bring tons of anti frizz products and such. Don't even think about packing heels you won't need them!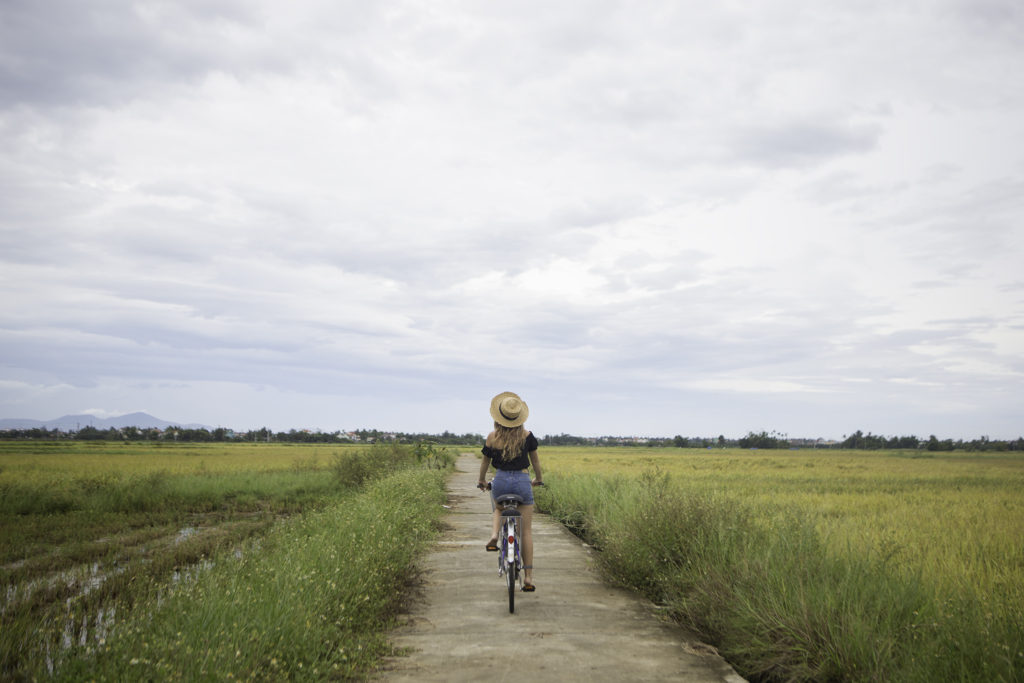 WHERE TO EAT
Eat anything, anywhere! Seriously the food in this country is so damn good and dirt cheap!
Eating in Vietnam is an experience on its own: You sit out in the streets, on tiny low plastic stools, there's always  a roll of toilet paper to use as napkins on the table, you hear food sizzling, people chatting, motorbikes strolling by, and the smells, ahhh the smells! People are very passionate about their food and you can definitely taste that!
FAVORITE FOOD: Pho, banh xeo, banh mi, cao lao, bun cha, coconut coffee, egg coffee.
TIP: Watch any episode of Anthony Boursain shows about Vietnam before you leave! He knows better than anyone else 😉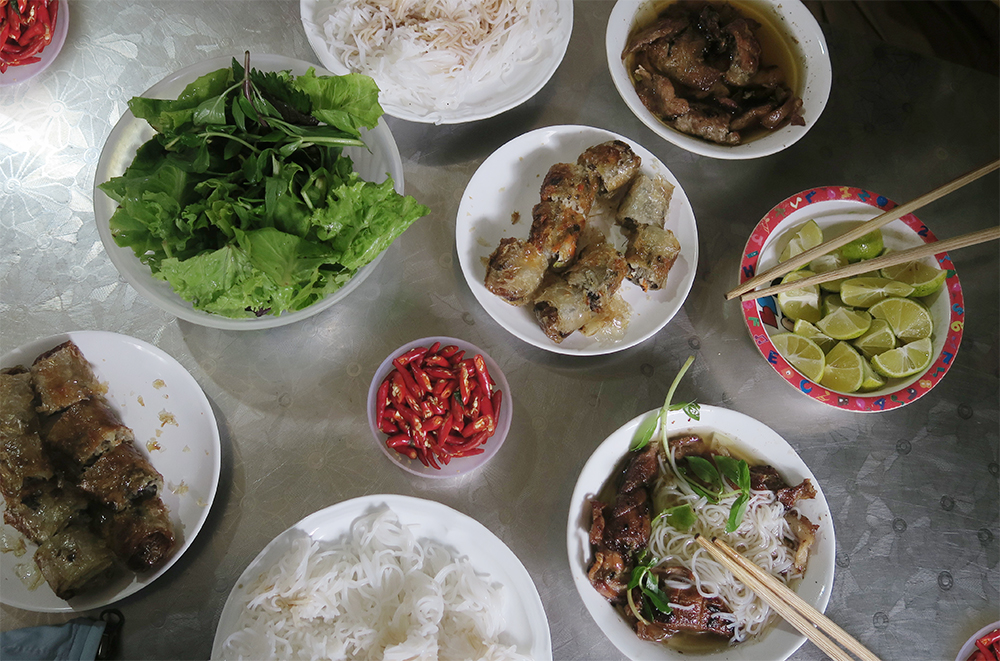 SUGGESTED RESTAURANTS
The Home 1990 (Hanoi) My friend Loan owns this pretty restaurant. It's located on the second floor of a Hoank Kiem building and not easy to spot but so worth finding it, the food is amazing, the design of the place is gorgeous and they put a ton of love in what they do, go pay them a visit and tell Loan I sent you 😉
Cong Caphe (Hanoi)
DO YOU LIKE THIS ARTICLE? PIN IT!!