Lately, on instagram, a lot of you are asking me where I find all the quotes I post in the captions under my pictures. I thought that, beside telling you all about my secret well of wisdom, I would also share some of the most inspiring travel quotes I know.
I get most of these quotes from goodreads.com. When I have to chose a quote to put under one of my pictures I look at it for a while and I think "What does this image make me feel?" and whatever words comes out I type in google "quotes about ….". Simple as that! I love matching quotes to my images because if the match is right the result can be pure magic: it can make people feel something ✨ 
What can i say, Im a sucker for quotes! Words—especially if they come from people I admire or that like the work of—are one of the most powerful kick in the ass for me. "Words save our lives sometime", said Neil Gaiman. Words saved my life many times; words gave me the strength to keep trying when I though I was crazy because of the way I felt about life and society, words gave me the courage to follow my dreams and say "Fuck it!", if it wasn't for some of these quotes I might have never ventured into the life I'm leaving today. So here they are, and I hope they will be as useful to you that they were for me!
MY FAVORITE TRAVEL QUOTES THAT CONTINUE TO INSPIRE ME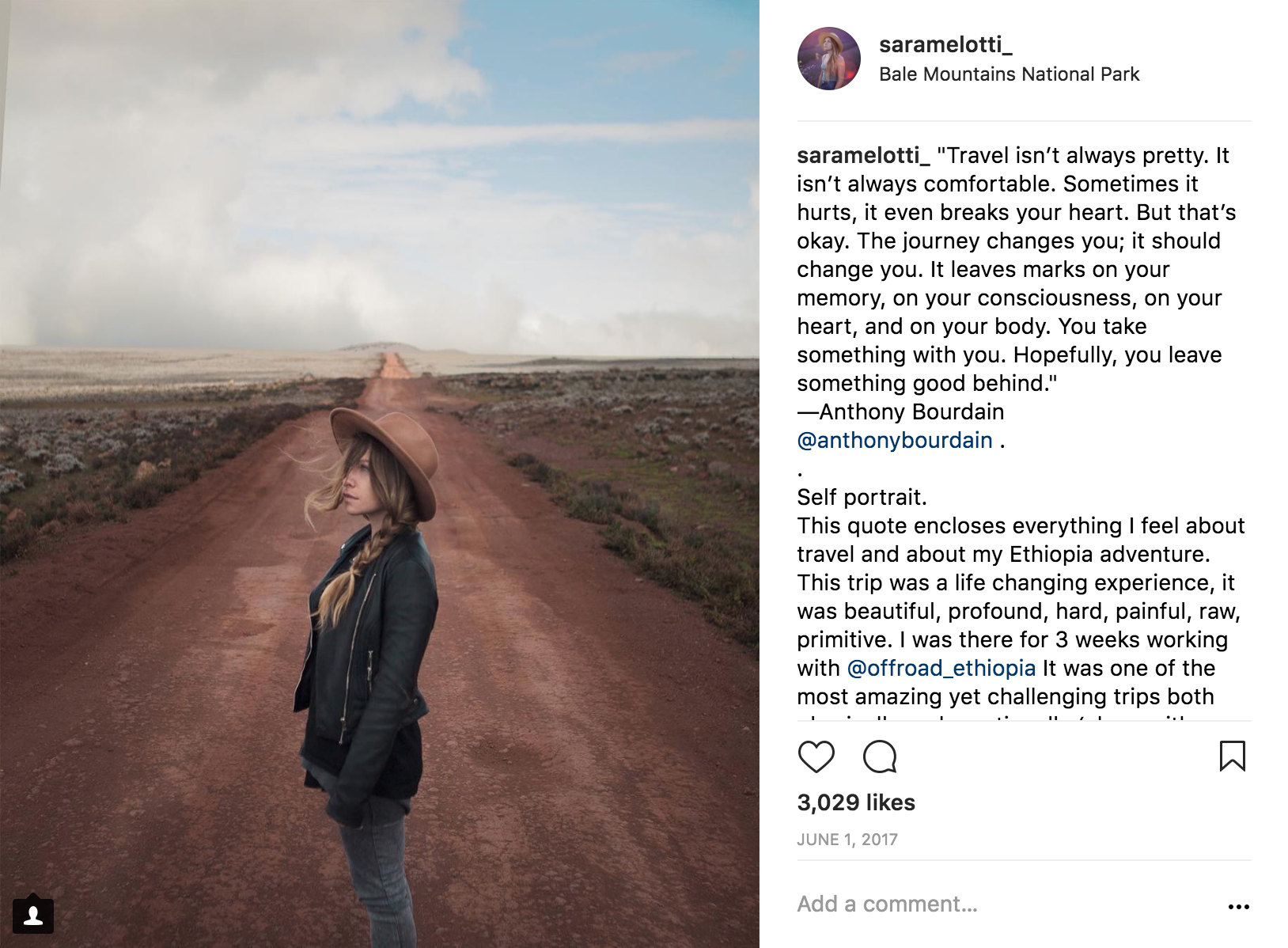 "Travel isn't always pretty. It isn't always comfortable. Sometimes it hurts, it even breaks your heart. But that's okay. The journey changes you; it should change you. It leaves marks on your memory, on your consciousness, on your heart, and on your body. You take something with you. Hopefully, you leave something good behind."
― Anthony Bourdain
✧☽ ✧
"The point of travel is in the path walked not in the destination; the point of traveling is travel itself not arriving somewhere"
—Tiziano Terzani
✧☽ ✧
"We travel, some of us forever, to seek other states, other lives, other souls."
― Anaïs Nin
✧☽ ✧
"Why do you go away? So that you can come back. So that you can see the place you came from with new eyes and extra colors. And the people there see you differently, too. Coming back to where you started is not the same as never leaving."
― Terry Pratchett
✧☽ ✧
All that is gold does not glitter,
Not all those who wander are lost;
The old that is strong does not wither,
Deep roots are not reached by the frost.
― J.R.R. Tolkien
✧☽ ✧
"Travel is fatal to prejudice, bigotry, and narrow-mindedness, and many of our people need it sorely on these accounts. Broad, wholesome, charitable views of men and things cannot be acquired by vegetating in one little corner of the earth all one's lifetime."
― Mark Twain
✧☽ ✧
"A good traveler has no fixed plans and is not intent on arriving."
― Lao Tzu
✧☽ ✧
"Nothing behind me, everything ahead of me, as is ever so on the road."
― Jack Kerouac
✧☽ ✧
"One's destination is never a place, but a new way of seeing things."
― Henry Miller
✧☽ ✧
"Wherever you go, you take yourself with you."
― Neil Gaiman
✧☽ ✧
"The wish to travel seems to me characteristically human: the desire to move, to satisfy your curiosity or ease your fears, to change the circumstances of your life, to be a stranger, to make a friend, to experience an exotic landscape, to risk the unknown.."
― Paul Theroux
✧☽ ✧
To travel is to discover that everyone is wrong about other countries. For every traveller who has any taste of his own, the only useful guidebook will be the one which he himself has written
― Aldous Huxley
✧☽ ✧ 
"Though we travel the world over to find the beautiful, we must carry it with us, or we find it not."
― Ralph Waldo Emerson,
✧☽ ✧
You will end up finding the way…if you dare to get lost first"
—Tiziano Terzani
I hope you liked these quotes as much as I do. What are your favorite travel quotes? Share them below in the comments!! 

Do you need some more travel inspiration? Here the video from my adventures in Vietnam!